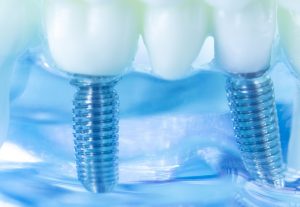 For the most part, good dental hygiene and regular dental care can help many people avoid the loss of one or more teeth. However, that doesn't mean they're guaranteed not to, and if tooth loss does occur, it's important to address it as soon as possible, and with the most lifelike restoration available. Today, we answer a few questions about why dental implants may be the best option for addressing your tooth loss, and how they can offer more beneficial support for your new smile.
What does a dental implant do?
A dental implant is a small post that's designed to mimic a healthy, natural tooth root in several different ways. When the implant post is placed within your jawbone, it can be utilized to support a custom-designed restoration that replaces the visible crowns of your teeth. Depending on how many teeth you've lost, this may include a single dental crown, a dental bridge, or a complete denture. An appropriate number of implant posts can be placed in order to offer optimal support for your custom restoration.
How are dental implants placed?
The point of a dental implant is to replace a lost tooth root and restore its vital functions. To accomplish this, the implant post must be placed within your jawbone structure, at a careful and precise angle to support the full weight of your bite. Because dental implants must be placed within the bone structure of your dental ridge, it's important that your oral health is free of disease, such as gum disease, and that your dental ridge has ample bone structure to support the implant post or posts. Once your dental implants are secure, they can offer highly lifelike support and stabilization for your replacement tooth or teeth.
What kind of restoration can implants support?
The good thing about dental implant posts is that they're designed, created, and placed individually. This means they can serve as a viable option for restoring a smile that's lost one, several, or all of the natural teeth on its upper or lower dental ridge. Many people who already wear a conventional bridge or denture due to tooth loss can also benefit greatly from upgrading their restoration to one that's supported on a series of dental implant posts.
Learn more about dental implants
If you've experienced tooth loss, then dental implants may provide the most lifelike option for rebuilding your smile. To learn more, schedule a consultation by calling Modern Smile in North Hollywood, CA, today at 818-763-9353. We also proudly serve patients who live in Burbank, Toluca Lake, and all surrounding communities.