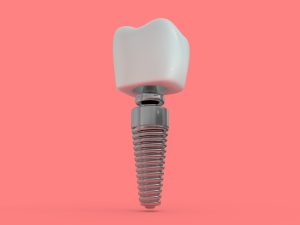 We may lose our teeth due to accidents and injuries, or as a result of untreated gum disease. When a gap appears, this could mean a cascade of oral health complications in the coming years. However, by replacing your missing teeth with dental implants, your North Hollywood, CA, dentist can help preserve the health and function of your smile.
The Dental Implant
What is a dental implant exactly? Well, this is a prosthetic that can be used to replace a single lost tooth, or address total tooth loss. The implant portion is similar in appearance to a screw and is made from titanium material that is biocompatible. Using advanced technology, we will choose the optimal placement area and then guide the placement of the implant into the jawbone. Through a process known as osseointegration, the new implant will bond with the jawbone like a tooth root. After three to four months, we will attach an abutment to hold a crown in place. The crown is designed to mimic the appearance of natural teeth, and offer a durable chewing surface. If you have multiple missing teeth, then we can place several and attach a prosthetic, such as a bridge or denture, to improve your smile's function and appearance.
Short and Long-Term Benefits
In the short term, you can begin eating your favorite foods again. Eating a variety of foods means improved nutritional intake and better overall health. You can smile with confidence and won't worry about dentures slipping as you speak or eat. The immediate impact on your facial structure could help you look younger and avoid an aged appearance.
In the long run, this protects your facial structure and helps prevent tooth loss. You see, once we lose a tooth the body no longer supplies the surrounding jawbone tissue with doses of key nutrients. Without these doses of calcium and phosphorous, the bone tissue is nutrient starved and begins to break down. This process leads to further tooth loss, as well as a prematurely aged appearance. The body sees dental implants as natural tooth roots and resumes the flow of nutrients, preserving your facial structure and protecting smile stability.
Are They Right for Me?
We will carefully examine your smile and look at a number of factors to see if this is the right choice for you! We can discuss your options and help you obtain a full and beautiful smile cone more.
Do You Have Questions About Implant Dentistry?
We would like you to help you maintain a full and beautiful smile with the placement of dental implants. For more information on our prosthetic treatment options, schedule a consultation by calling Modern Smiles in North Hollywood, CA, today at 818-763-9353. We also proudly serve patients who live in Burbank, Toluca Lake, and all surrounding communities.