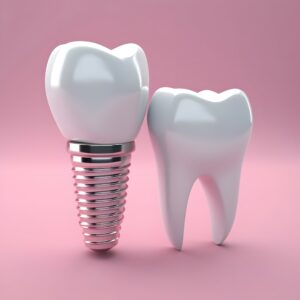 When you lose your teeth, this not only leaves behind embarrassing gaps in your smile, but can weaken your jaw as well! By placing dental implants, we not only fill these gaps, but we preserve your facial structure too. In today's blog, your North Hollywood, CA, dentist talks about how we place your dental implants.
The Impact of Losing Your Teeth
You should never dismiss tooth loss, even if you have a single lost tooth. The body will respond to the lost tooth by suspending the flow of calcium and phosphorus to the bone structure around the lost root. Without these doses of nutrients, the bone tissue breaks down, causing the jaw to lose mass and density. You could lose additional teeth and over time, develop a prematurely aged appearance. Tooth loss is also linked to embarrassment and impacts on your social life, as well as issues eating or even speaking clearly. But with implant dentistry, our team can help address your missing teeth with lifelike and long-lasting dental implants.
Guiding Placement with CT Technology
The implant post is a biocompatible titanium post that is inserted into the jawbone surgically, and will then act as a new tooth. The body will resume the flow of calcium and phosphorus to the area around the new implant, which prevents the breakdown from occurring and preserves your appearance. We will plan the process in detail and then guide the implant post into place with CT technology, ensuring we choose the right angle and option to support a new tooth. Or if you have a more advanced case of tooth loss, we could use several posts to support a bridge or even a full set of fixed dentures!
Restoring Your New Teeth
Once your new implants are in place, we will attach an abutment to them, which provides structure that extends above the gum line. For an individual dental implant, we can attach a crown to the post. The crown will be custom-made to ensure a lifelike appearance and a durable chewing surface. If you need a denture, we can attach abutments to each post and then connect a denture, so you have a prosthetic that never slips when you eat or speak. If you have any questions about how we treat missing teeth with implant dentistry and modern technology, then contact our team to schedule a consultation. Everyone deserves a full and beautiful smile, and we want to help you through each step of the process.
Learn More About Prosthetic Dentistry With Modern Smiles
Our team wants to help you enjoy a full smile again with a long-lasting tooth replacement. To learn more about treating your tooth loss, give us a call at Modern Smiles in North Hollywood, CA at (818)763-9353!