Dr. Chantal Khalili
Dr. Chantal Khalili – General Dentist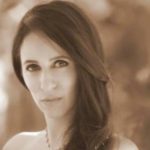 Dr. Khalili is an experienced and proven practitioner who utilizes minimally invasive and biomimetic dentistry. She also commands vast expertise in cosmetic and restorative care. One of Dr. Khalili's core beliefs is to treat her patients using a holistic approach, factoring in their overall health in diagnosis and treatment planning. Dr. Khalili strives for outstanding patient satisfaction and utilizes the industry's latest advancements to provide the highest quality care to her patients.
Dr. Chantal Khalili is a graduate of the USC School of Dentistry, where she attained her DDS degree, and UCLA where she earned her bachelors in arts. She is a member of the American Dental Academy (ADA) and Alpha Omega International Dental Fraternity.
To schedule a one-on-one consultation with Dr. Khalili to learn more about the expert services she can provide, please contact our North Hollywood, CA, dentist's office at 818-763-9353 or use our easy online scheduling form.