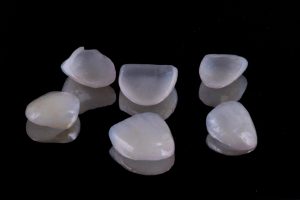 A smile makeover means an opportunity to tackle multiple cosmetic issue and improve the beauty of your teeth. For many of our North Hollywood, CA, patients, we can accomplish this without multiple procedures. In fact, porcelain veneers alone often offer a chance at a complete smile makeover in as little as two sessions. Find out how we create and place these unique cosmetic restorations.
A Smile Makeover
The restoration is made from porcelain. They are incredibly thin and placed over the front of the teeth. Once placed, they completely alter the appearance of the tooth. We've used them to repair minor cracks or chips, or to lengthen worn down teeth. For those with permanent teeth stains, the kind that don't respond well to teeth whitening, we can mask discoloration. We also help close gaps between the teeth and even correct the appearance of minor misalignment, offering an alternative to orthodontics for some.
Creating a Veneer
First, we need to make room for them. To ensure a natural looking appearance and a comfortable fit, we remove a thin layer of outer tooth enamel. We take impressions of the tooth, which we use to design them. We create them from porcelain, which is a strong and stain-resistant material, one that offers several years of restoration and can even be shaded to match the color of the tooth. Porcelain also reflects the translucent nature of tooth enamel. When the patient returns for the second visit, we check the fit and make any necessary adjustments. We then place the restoration with a powerful bonding material. When the patient leaves, he or she leaves with a stunning new smile!
Whitening and Bonding
We may also combine these with other cosmetic treatments. For example, we may administer professional teeth whitening, to ensure your veneers match your brightest possible smile. We may also combine them with dental bonding, reserving the restorations for the front facing teeth but using bonding for the side and rear teeth, providing a more cost-effective smile makeover. If you would like to learn more about our cosmetic treatments, then contact our office. During your consultation, we can discuss your goals and examine your smile to see which options will best improve your appearance. If you have any questions, then please contact our office today.
Will Veneers Help Your Smile?
We will examine your smile to see if veneers are the right choice for your makeover. For more information on our cosmetic treatment options and long-lasting restorations, then schedule a consultation by calling Modern Smile in North Hollywood, CA, today at 818-763-9353. We also proudly serve patients who live in Burbank, Toluca Lake, and all surrounding communities.