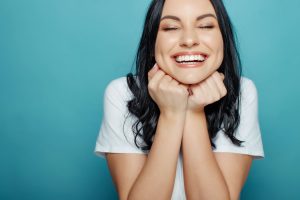 Cosmetic dentistry isn't just about offering teeth whitening or correcting the shape of the teeth with bonding and veneers. We also have treatments to address the gums, which frame your teeth and impact the health and appearance of your smile. For those with too much gum tissue, your North Hollywood, CA, dentist may offer treatment with gum contouring, using advanced technology to change how your smile is framed!
The Gum Contouring Procedure
A gummy smile means you display too much gingival tissue when you smile or laugh. For many, excessive tissue, along with issues related to the appearance of the gum line, could make teeth appear small or uneven. No matter what cosmetic treatments you undergo to improve your teeth, your gums could continue to have a negative impact on the appearance of your smile. To help, we may prescribe gum contouring, a procedure that enables us to carefully and safely remove excess tissue with precision. We can reshape the gum line and lengthen the appearance of the teeth, offering a more esthetically-pleasing smile in just one visit.
Laser Dentistry
What technology we will use to perform this procedure? Instead of scalpels and sutures, we will instead employ advanced laser dentistry. A dental laser offers great accuracy and reduces the chances of damage to healthy tissue. The procedure also limits the risk of bleeding and infection, promoting a fast healing process. Most people return to normal activities in about a day. There is also no need for sutures, and in fact, little need for anesthesia either!
Benefits of Treating Periodontal Disease
Often, contouring the gumline means improving your ability to clean your smile when brushing and flossing, which helps you remove bacteria from around the gum line and reduces the risk of gingivitis and periodontal disease. In addition, if you suffer from a more advanced stage of periodontal disease, laser dentistry could be employed to remove diseased tissue and allow healthy tissue to adhere to the teeth, reducing the depth of periodontal pockets and allowing us to better manage the disease and prevent tooth loss. If you would like to learn more about how we use laser dentistry to improve the health and appearance of your smile, then please contact our team today. You can schedule a consultation to find out if this procedure is right for you.
Does Your Smile Need Cosmetic Care?
If you have questions about cosmetic treatment, then you need to see our team! We're here to address your questions and concerns, and help you enjoy a more attractive smile with an array of treatment options and a personalized treatment plan. For more information on correcting gummy smiles, schedule a consultation by calling Modern Smile in North Hollywood, CA, today at 818-763-9353. We also proudly serve patients who live in Burbank, Toluca Lake, and all surrounding communities.