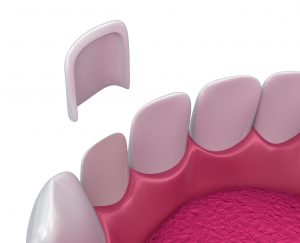 We offer our Burbank, CA, patients a host of cosmetic treatment options, some designed to correct misalignment, while others brighten teeth or repair damage. However, we also have a single treatment option that can transform a smile's appearance and offer a number of cosmetic benefits. How do we makeover a smile with our porcelain veneers?
Crafting Your Cosmetic Restorations
Each veneer we place on a smile is custom-made, which means we must remove a thin layer of enamel from the teeth receiving them and take detailed impressions. The impressions enable our team to design and craft the restorations from porcelain, a strong material that contains stain-resistant properties, can absorbs serious bite forces, and can be shaded to match the color of the teeth. The translucent nature of porcelain also allows it to better mimic the look of natural enamel.
Placement and Benefits
After we design and create the restoration, you will return for your second visit. We will check the fit to make sure it stays in place comfortably and blends seamlessly with your smile. We then place it with a powerful bonding agent, the same we use to secure crowns, inlays, and onlays. Once in place, the restoration covers the fronts and sides of the teeth, instantly masking permanent teeth stains and reshaping malformed or misshapen teeth. We can also close embarrassing gaps between teeth, lengthen worn down teeth, repair chips and cracks, and also correct the appearance of minor misalignment. They even have the potential to last for decades!
How Do I Keep Them Bright?
In order to ensure they last and continue to stay bright and lifelike, you need to care for them as you would a natural tooth. After all, the teeth the veneers are attached to are still vulnerable to decay and gum disease. We suggest you take time each day to brush your teeth for two minutes, once when you get up and again before bed. You also need to floss thoroughly at night and see us every six months for a checkup and cleaning. We will monitor your new restoration and also remove plaque buildup, a major factor behind cavities and gum disease. You should also cut back on drinks with staining pigments, such as coffee, red wine, soda, and tea, and consume fewer sugary foods and drinks. If you have any questions, then contact our team today!
Do You Need a Veneer (or Two)?
We can help you enjoy a transformed smile with our thin cosmetic restorations. For more information on our cosmetic treatment options, schedule a consultation by calling Modern Smile in North Hollywood, CA, today at 818-763-9353. We also proudly serve patients who live in Burbank, Toluca Lake, and all surrounding communities.