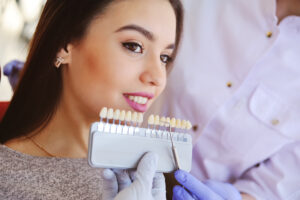 Your smile is one of your greatest assets, and oftentimes the first thing another person may notice about you. Not only can a vibrant grin communicate heightened levels of confidence and happiness overall, but it can also communicate your receptivity and overall friendliness. With all of this in mind, nothing is more detrimental to a happy grin than a noticeable blemish or discrepancy. In today's blog, your North Hollywood, CA dentist explains how cosmetic dental concerns can occur in a host of different ways, as well as how porcelain veneers are the answers to your predicament.
Benefits of Cosmetic Care
By now, you are likely familiar with the idea that cosmetic dentistry addresses surface-level dental concerns. Indeed, we all know that our oral health is the top priority to consider when pursuing dental treatment. Though this is a true concept, it does not mean that other non-health-related issues should be ignored completely. As a matter of fact, there is significant value in enhancing your oral appearance, and our team wants to make the process as smooth but impactful as possible.
When we think of blemishes on our teeth, the first thing that often comes to mind is a noticeable stain or discoloration. It is important to note, however, that stains are far from the only cosmetic issues you have to worry about in your life. For example, a person can endure a chip or crack that does not directly impact their health, but most definitely serves as a noticeable eyesore.
You see, many times surface-level concerns are thought of in a linear fashion, and while whitening can help with stains, what is that to say for a grin embodying a host of surface-level issues? Fortunately, this is where porcelain veneers come in to help.
Addressing Multiple Blemishes
Dental veneers are ultra-thin shells of dental porcelain that are designed to mimic the natural luster and appearance of your teeth. They are bonded to the front of your structures using dental cement, and only require a minimal amount of enamel sculpting to place.
Not only is the veneer process noninvasive and straightforward, but it only requires one visit to complete! What's more, they are the ideal solution to treat a host of cosmetic concerns, meaning you do not have to worry about various different treatments to accomplish the same results. Give our team a call today to learn more.
High-Quality Results
In addition to the various benefits we mentioned above, veneers also play an important role in enhancing your smile's appearance overall. After all, there is a reason it is a cosmetic treatment! Veneers offer a permanent solution to years of stains, chips, or cracks, and can even bridge minor gaps as well.
Schedule Your Appointment
To learn more about the many benefits of veneers and your grin, contact Modern Smiles in North Hollywood, CA by calling 818-763-9353 to schedule your next appointment today.