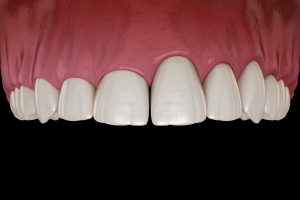 Having a healthy, beautiful grin that you are confident in is a goal that many people have. Sometimes pesky chips or stains can get in the way of that, but that is nothing a little cosmetic dentistry such as whitening and porcelain veneers cannot address! In some cases, however, your oral tissues can cause some unevenness and discontinuity as well, making your grin appear off. In today's blog, your North Hollywood, CA dentist wants to look at three benefits of gum contouring and how it can help you achieve the beautiful smile you deserve.
Correcting Uneven Gums
Having a gummy smile can cause a significant amount of confidence to dwindle, as the asymmetry of the oral tissues can make your teeth appear uneven and misaligned even if that is not the case. What's more, excessive tissue can actually increase your chances of developing infections and other concerns. As a solution to this dilemma, your dentist may recommend the process of contouring to reduce this risk and enhance your grin.
Gum contouring is the name given to the process of reshaping your gums with advanced laser technology to eliminate the appearance of extra tissue and enhance your appearance. Our office utilizes advanced laser technology in order to reduce levels of discomfort in addition to creating a more precise gum line and making the healing process much more comfortable and quicker than the standard oral surgical procedure would.
Reduced Risk of Infection
A straighter gum line is much easier to keep clean and safe than an uneven one, protecting your oral health from threats such as periodontal disease caused by harmful oral bacteria. Typically, oral bacteria thrive in warm, moist, difficult-to-clean areas, which makes the tissues housing your teeth a perfect home for them. If permitted to thrive, they can get below the gum line and attach themselves to the roots of your teeth, causing plaque and tartar to develop over time. When this occurs, the surrounding tissues can become infected, exhibiting signs of separating from teeth, bleeding, inflammation, and overall discomfort. Without proper care and dental assistance, you may develop periodontal disease which can ultimately lead to tooth loss. By seeking a contouring treatment, you are able to reduce your risks of developing the disease, as your smile will be much easier to manage and keep clean.
More Comfort
In the past, surgery was often the primary method for performing this procedure. While it was effective, it led to higher levels of discomfort, longer heal times, and overall a more extensive process. With the assistance of advanced laser technology, a more precise contour that minimizes discomfort and heal time not only makes for a better result but leaves our patients feeling better and more confident about their appearance.
Schedule Your Visit
To learn more about enhancing your smile with laser dentistry, or to schedule your visit, contact Modern Smiles in North Hollywood, CA by calling 818-763-9353 today.