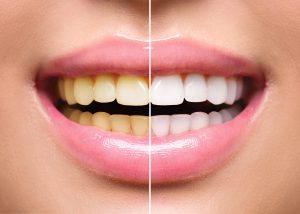 When stains appear, this can cause embarrassment and lead to many people hiding their smiles. Fortunately, your North Hollywood, CA, dentist can brighten smiles with two different cosmetic treatments, in-office and at-home teeth whitening. In today's blog, we're taking a look at these treatment options!
What Causes Our Teeth to Become Stained?
Often, our daily habits impact the brightness of our smiles. For example, when we consume foods high in sugar and starch, or consume beverages high in sugar, this leaves behind particles for bacteria to feed on. Over time, this causes plaque buildup, which makes the appearance of stains more likely (and also increases the risk of tooth decay and gum disease). In addition, lack of proper brushing and flossing could promote plaque, as well as forgoing routine dental cleanings. Drinks with dark pigments can discolor teeth, such as coffee, red wine, tea, and soda. Finally, tobacco use, such as smoking, also causes unsightly yellow stains to appear. As part of your treatment, we will identify the cause and assess the severity of your discoloration to recommend the most appropriate treatment option.
In-Office Treatment
Our in-office treatment offers fast results, with significantly brighter smiles available in as little as one to two hours. We begin by placing a protective covering over the lips and gums, then applying the bleaching gel to the teeth. A light activates the gel, which begins breaking up discoloration. We repeat the process as necessary to brighten your smile. This option is great if you need quick results before a job interview or a special event.
At-Home Solutions
For addressing more severe discoloration, and to reduce the risk of tooth sensitivity, we may suggest our at-home option. We will create a custom-made plastic tray and prescribe a powerful bleaching gel. At home, you will fill the trays with gel and wear them for about 30 to 45 minutes a day. The trays help spread the gel evenly across the teeth. Over a period of about seven to ten days, your smile could be brightened by several shades. You can then keep the trays and any leftover gel to brighten teeth down the road. If you have any questions about preventing discoloration, or about our cosmetic whitening options, then contact our team today. We would love to help you enjoy optimal oral health and a stunning smile you can't wait to show the world.
Do You Have Stained Teeth?
If you have discoloration then we have two unique options to remove these stains. For more information on keeping smiles bright, schedule a consultation by calling Modern Smile in North Hollywood, CA, today at 818-763-9353. We also proudly serve patients who live in Burbank, Toluca Lake, and all surrounding communities.