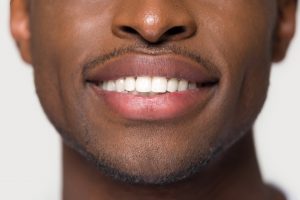 While we do offer facial rejuvenation with treatments like Botox, Dysport, and dermal fillers, we can also help improve the appearance of your facial structure with lifelike porcelain veneers. In today's blog, your North Hollywood, CA, dentist explains how a Smile Facelift® with a custom dental restoration is possible!
Creating Your Veneers
A veneer is a very thin porcelain restoration that covers the front and sides of each individual tooth. As a result, they have the ability to instantly transform the overall appearance of one or more of your teeth. Each one will be custom-made to ensure a more attractive appearance, as well as a comfortable fit. To start, we make room for them by removing a thin layer of enamel. We then take detailed impressions and measurements, which helps us design and fabricate the completed restoration. When you return for a second visit, we will check the fit and then place them with a powerful bonding agent. With proper care and attention, you may be able to enjoy them for decades to come!
Improving Facial Esthetics
Placement helps improve facial structure and offer a facelift. Some enjoy a more youthful visage as a result. They also improve the teeth as well. Placement corrects minor damage, such as cracks or chips, and even lengthens teeth worn down by bruxism (teeth grinding) or injury. We help close embarrassing gaps between the teeth, and placement also corrects the appearance of minor misalignment for some, providing an alternative to orthodontics. If you have permanent teeth stains, we instantly mask them so you enjoy a brighter smile.
Protecting Your New Smile
The same care that keeps your natural teeth bright and healthy helps ensure your restorations stay bright and strong too. When you brush and floss, you help limit plaque buildup in between cleaning visits, avoiding discoloration and reduce the risk of cavities and gum disease, which could protect the teeth restorations are attached to. If you have any questions about keeping your smile healthy while you're at home, or about our cosmetic treatment options, then please contact our team today. We have strict health and safety protocols in place and we're ready to help you obtain a stunning new smile!
Do You Have Questions About Improving Your Smile Beauty?
We want to help the residents of our community obtain the smile they've dreamed of with our high-end cosmetic care, including porcelain veneers, professional teeth whitening, dental bonding and contouring and more. For more information on our approach to lifelike cosmetic dentistry and oral healthcare, then schedule a consultation by calling Modern Smiles in North Hollywood, CA, today at 818-763-9353. We also proudly serve patients who live in Burbank, Toluca Lake, and all surrounding communities.