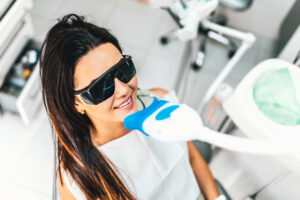 It is exceedingly easy to feel self-conscious about the look of your smile. Moreover, feeling unhappy about the color of our teeth can be disheartening. This is a common issue; you can visit any grocery store or pharmacy and see myriad items bragging about their teeth-whitening powers. If you have tried any of these, you know that they provide very lackluster results. Even if you have been disappointed when it comes to brightening your teeth in the past, there is an effective, proven solution that can help. In today's blog, your North Hollywood, CA dentist talks about the professional whitening options that will help remove your stains.
What Causes Stains & Discoloration?
Before learning about the treatment options we provide, it is helpful to understand the different types of stains and what causes each. Being well-informed is important, so you know which option is right for your needs. Age-related stains are natural and occur as you get older; over time, your enamel wears away, causing your teeth to yellow slightly. This affects almost everyone, regardless of oral healthcare habits. Extrinsic stains are caused by lifestyle habits and choices like food, drinks, and the consumption of tobacco products. These are closer to the surface and affect the enamel. These can usually be addressed with professional teeth whitening. Finally, intrinsic stains reside deeper within your teeth, and they are the hardest to remove due to their location. They are typically caused by tooth decay, an overabundance of fluoride, trauma to the tooth, and certain medications. Whitening may not address these stains to your satisfaction, and if this is the case, porcelain veneers could be the best option. 
At-Home Treatment
Many people like the idea of undergoing teeth whitening treatment at their own pace from the comfort of their own homes. If this appeals to you, we can create a customized kit for you to use. For this, we craft custom trays that will comfortably fit over your teeth. We also provide you with a safe and effective bleaching solution that you apply to the trays. From there, you just wear them for a couple of hours each night for two weeks, and by the end, you will have a noticeably brighter smile.
Quicker Treatment In The Office
If you want your teeth whitened much more quickly, you can come into the office for our Zoom Whitening treatment. This process consists of us applying a safe bleaching solution to your teeth that we then activate with a gentle UV light. After about an hour in the chair, the solution will have removed most, if not all of your teeth's stains.
Contact Us To Schedule An Appointment
If you would like to schedule an appointment to learn more about teeth whitening, contact Modern Smiles in North Hollywood, CA by calling 818-763-9353.