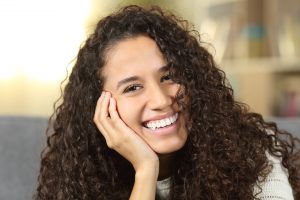 When we discuss our cosmetic dental options, we often focus on the solutions that improve the shape and appearance of your teeth. However, we also have a unique option that uses advanced laser technology to address the symmetry of the periodontal tissues. In today's blog, your Burbank, CA, dentist is taking a look at gum contouring!
Addressing Your Gummy Smiles
When we have excessive gingival tissues on display, we refer to this concern as a gummy smile. This issue could impact how you feel about your smile, and also how the gum tissues frame the teeth. For some, this excess tissue could make the teeth appear small or uneven. To address these concerns and return symmetry to your smile, we will use advanced laser technology. A dental laser will be used to target the excess tissues with precision and accuracy, carefully removing them without damaging surrounding tissues. We reshape the gum line to improve your gum-to-tooth ratio and boost smile esthetics.
Precision and Accuracy with Laser Dentistry
The lasers are comfortable and often require little to no anesthesia during treatments. They've been shown to reduce the risk of bleeding and infection too, instantly cauterizing the area following treatment. You won't need sutures either! The healing process is quick, and most need to avoid normal activities for only a day or two before they can resume their normal activities. We will monitor your smile with a follow-up visit.
Treating Periodontal Concerns
Did you know that an uneven gum line, or excess tissues, could become places for harmful oral bacteria to thrive? For some, this could mean a greater risk of periodontal disease as the tissues become inflamed. The contouring could remove the hiding places and improve periodontal health. We've also used the lasers to remove diseased tissues and help treat more advanced stages, protecting people from worsening discomfort and the risk of adult tooth loss. Remember, healthy gums not only ensure a more attractive smile, but also help safeguard the stability of your smile and prevent bleeding, soreness, redness, and for some, the periodontitis that lead to missing teeth. If you have any questions about treating periodontal disease or addressing the visual aspects of your smile, then contact our team today.
Do You Have Questions About Cosmetic Dental Treatment?
Our team is ready to help you obtain a stunning new smile by tackling your esthetic issues. We have a wide array of treatment options to address everything from teeth stains to gummy smiles. For more information on cosmetic smile improvement, then schedule a consultation by calling Modern Smiles in North Hollywood, CA, today at 818-763-9353. We also proudly serve patients who live in Burbank, Toluca Lake, and all surrounding communities.