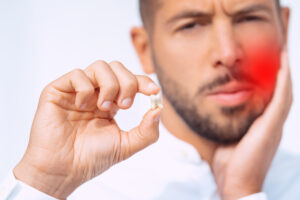 Staying on top of your oral health is a process that may be much easier said than done, especially if you have not been practicing a full regimen of at-home and in-office preventive dental care. Indeed, there are various factors out there that can cause even more smile complications, so the least we can do for our grins is provide protection and assistance. Even still, issues may arise without much warning, and before you know it, you are having to make difficult decisions about your teeth. In today's blog, your North Hollywood, CA dentist takes a look at the way infection spreads and compromises a person's smile, and how an extraction might be your best option to prioritize your oral health.
Spreading Infection
Just like a cold or a virus, a dental infection will continue to spread and wreak havoc if help is not sought. Indeed, one of the most common oral health concerns everyone faces throughout their lives includes dental decay, a process caused by oral bacteria producing an acid that eats away or erodes the protective layer of enamel surrounding your teeth.
Although tooth decay is certainly not the most dangerous factor to worry about, that does not mean it should go untreated. Catching the infection early on can be difficult, however, especially if you do not attend regular checkups and cleanings. As a matter of fact, most individuals who seek treatment for an issue related to tooth decay have likely had the concern for a while and only sought treatment when symptoms began to manifest themselves.
If you are not careful, this can lead to significantly worse circumstances than if you had sought treatment sooner, and our team encourages you to come in immediately if this is the case. TO learn more about this process, reach out to our team today.
Complications to Function
In addition to the pain a serious infection may cause, you will also endure complications and difficulties with your oral function. Indeed, it is only when an infection spreads to your tooth roots and harms the sensitive nerves kept there that you will endure pain. What's more? The unfortunate truth is that this is a sign that not much time is left to seek help before having to have a compromised structure extracted. Sometimes, however, this is the best-case scenario.
Other Teeth at Risk
Though the last thing our team wants is for you to lose a natural structure, if other teeth are at risk and a tooth is beyond saving, the next best option is to have it removed. Indeed, this process can mitigate the spread of the infection and prioritize the health of your other teeth.
Learn More Today
Contact Modern Smiles in North Hollywood, CA by calling 818-763-9353 to learn how a dental extraction may benefit your smile, and schedule your next appointment with our team today.