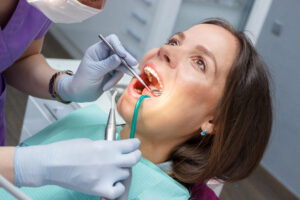 Your smile is one of your greatest assets, and it is imperative you take good care of it to ensure it remains healthy and strong. Indeed, loving your smile can be difficult when you are presented with a number of surface-level concerns, but fortunately, cosmetic dentistry has you covered. Still, the most important factor to consider is your overall oral health, and attending your regular preventive visits is necessary for a lifelong grin. In today's blog, your North Hollywood, CA dentist encourages you to schedule your next preventive care visit before the new year, as well as explains the importance of consistent prevention.
A Necessary Appointment
It goes without saying that the most important appointments you can attend are your regular checkups and examinations. After all, you may be doing your part at home to ensure your teeth are cared for, but if you happen to fall short in one or more areas, this can lead to major issues and complications down the line.
Indeed, when you attend your regular preventive visit, our team will take care to provide a thorough examination of your structures. This step helps us identify any minor points of concern or potential threats to your oral health so that we can get the ball rolling on treatment sooner rather than later.
Further, your cleaning is essential for removing difficult deposits of plaque and tartar that may have nestled close to your gum line and in-between teeth. Though you may floss and brush regularly at home, sometimes it is difficult to reach certain areas, requiring a little additional help. To learn more about this process and how our team can help, give us a call today.
Starting the Year Off Right
There are a number of benefits to attending your preventive dental visit before the new year begins. For example, many individuals make New Year's resolutions, and one of the popular ones out there is to prioritize one's health. This includes attending dental visits, and come January, it may be difficult to schedule a visit. As such, taking care of your appointment prior to January 2022 can help you start your new year off on the right foot with excellent oral care. Contact our team to learn more about this process.
Utilizing Your Dental Benefits
In addition to starting the year off on the right foot, another major benefit to attending your checkup now as opposed to after the new year is that you can utilize your dental benefits! Indeed, most benefits expire by the end of the year, so make sure to utilize these promos while you can before the same quality care becomes more expensive.
Learn More Today
To learn more about the need for regular preventive dental visits, contact Modern Smiles in North Hollywood, CA by calling 818-763-9353 to schedule your next appointment with our team today.