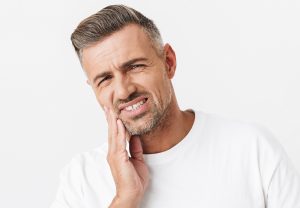 While good dental hygiene and preventive dental cleanings can help you prevent most of the concerns that might impact your smile, not every concern is the result of oral bacteria buildup. For example, if you're one of the millions of people who suffer from bruxism, then the uncontrolled grinding of your teeth against each other could be the biggest threat to your oral health. Today, we examine what uncontrolled teeth-grinding can lead to, and why it's important to treat bruxism with a custom-designed oral appliance as soon as possible to avoid further complications.
What causes you to grind your teeth?
Grinding your teeth and having bruxism aren't always the same thing. Sometimes, your teeth may clench or grind together in moments of heightened stress, when you feel pain, or as a nervous habit. The reason will determine the frequency, but when you have bruxism, the grinding of your teeth occurs much more frequently than you realize. The condition known as bruxism describes teeth-grinding that's a result of one or more specific underlying issues. For instance, your bite may be misaligned, and as a result, your bite has developed the tendency to grind your teeth as it tries to get comfortable.
The damage your teeth experience
When you have bruxism, you might be able to consciously stop grinding your teeth whenever you notice that you're doing it. However, the problem is that you won't always notice it, and for many people, it will occur more often at night, while they're sleeping. Because of this, one of the first and most prominent consequences of bruxism is the damage that it causes to your teeth's structures. This will occur most notably on your teeth's chewing surfaces, which can wear down under the continued friction of grinding together. It can also lead to more significant damage, including fractures or breaks in one or more teeth, if you don't address your bruxism promptly.
The harm it does to your jaw joints
When you grind your teeth in your sleep, you have no control over the amount of pressure that your jaw joints and muscles generate as they force your teeth against each other. This means they can grind together with the full force of your bite, and the repetition of your teeth-grinding can wear down or damage your jaw joints (known as TMJs) before long. The development of TMJ disorder is often related to bruxism because of this pressure, and for some patients, treatment may require addressing both bruxism and the resulting jaw dysfunction.
Learn how to stop grinding your teeth
Uncontrolled teeth-grinding is a characteristic symptom of bruxism, and it can become a significant threat to several different aspects of your oral health. To learn more, schedule a consultation by calling Modern Smile in North Hollywood, CA, today at 818-763-9353. We also proudly serve patients who live in Burbank, Toluca Lake, and all surrounding communities.