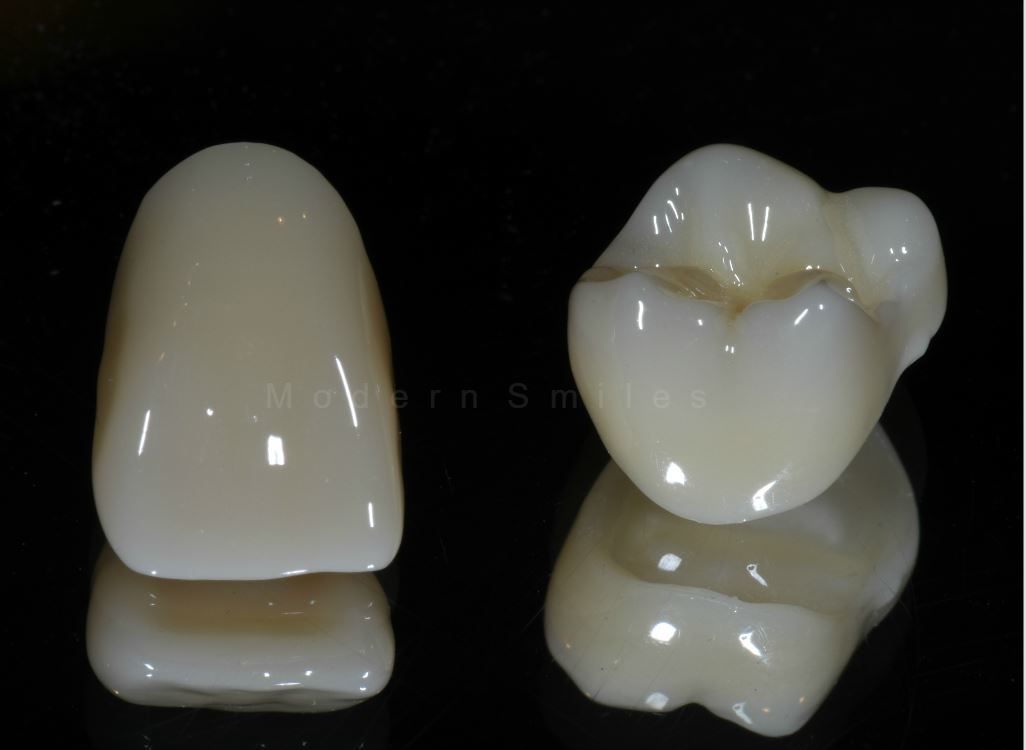 As dental material technology has evolved over the years, so have dental crowns. There are 3 main generations that date as far back as 1900's and started with the first of its kind, the all-porcelain "jacket" crowns. This crown although aesthetic, was prone to fractures and leakage and didn't last very long. In the 1950's Abraham Weinstein addressed this issue by inventing the famous Porcelain Fused to Metal (PFM) crown that has become the stable of the dental industry and still used to this day. By bonding the porcelain to an underlying metal framework, Weinstein was able to reduce the stress fracture rate and simultaneously improve their fit and longevity. However, this process wasn't without some downsides.  To hide the dark color of the underlying metal framework, an opaque white layer had to be baked on top of it to cover the color and created the appearance of chalky white crowns often associated with PFMs. Furthermore, as the gum lines recessed due to irritation or other factors with the metal alloy, the margin of the these crowns would start to show as an undesirable dark purple line around the gum line.
Th second generation of dental crowns IPS Empress by Ivoclar Vivadent Inc., Leucite crystals were introduced to the porcelain  which allowed it to be pressed under heat and pressure to form in a mold and create restorations that were fracture resistant while providing a great fit and appearance. Although this was a significant improvement and allowed to do away with the metal framework, its application was limited to front teeth or smaller cavities. These IPS Empress crowns were still not strong enough to be used to cover the back teeth such as molars or used as dental bridges and under heavy stress would fracture or break.
In the late 1990's Lithium Disilicates and Zirconium Dioxide based crowns, also known as Bruxzir, were introduced to dentistry which significantly changed the landscape and provided a new paradigm shift in dental aesthetics and wear resistance. These E.Max crowns and restorations achieved an impressive flexural strength without compromising fit or the translucency of the material which gives its beautiful and life like appearance. In addition, these materials have been shown to be less abrasive on the opposing natural dentition which overtime leads to less excessive wear and attrition.
In summary, BruxZir and E.max crowns will continue to grow in use due to their better esthetic characteristics. New hybrid full ceramic materials are coming into the market and at Modern Smiles Dental Spa in North Hollywood we are committed to using the latest and the best in materials and advancements for our patients. So here is a list of major benefits of these new 3rd generation crowns or veneers to consider:
Soft Tissue Response:  Many  patients who have had serious soft-tissue irritation with metal or PFM crowns have seen  a complete reversal of the inflmmation and recession, often within just a few days after placing E.max or BruxZir crowns
Preservation of Natural Tooth Structure: Due to their increased strength and stacking of fewer layers, less tooth structure has to be removed to achieve the same objective leading to less sensitivity and preservation of patient's natural tooth.
Improved Aesthetics: The transparent color and lifelike shape of E.Max porcelains ensures that these crowns or veneers will never be noticed amongst your own natural teeth, plus there is no metal base so no unsightly looking grey line around the gum line.
Bio-compatibility: Both Bruxzir and E.max crowns are regarded as highly bio compatible. With no metal alloy layer prone to rust or toxic mercury content,  these crowns are very inert and considered non-cytotoxic.
Bonded Retention: Due to their unique chemistry and structural form, these crowns can be bonded to the tooth which not only increase their strength but also their adhesion to the tooth and therefore longevity.
At Modern Smiles Dental Practice in North Hollywood your satisfaction is our number one priority. Our trained and dedicated doctors will utilize only the best in class and modern dental materials to achieve extraordinary results. Contact us via phone at 818.763.9353 or online to learn more.