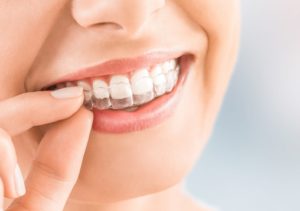 Patients with crooked teeth (malocclusion) often realize that they should correct their tooth alignment as soon as possible. Besides the visible effects that it can have on your smile, malocclusion can also make biting and chewing more difficult and uncomfortable, leading to a host of bite problems. However, many patients hesitate to straighten their crooked teeth because they believe doing so will require wearing brackets and wires on their teeth for several years. Fortunately, with Invisalign® clear aligners, many patients in North Hollywood can enjoy the straighter, more attractive, and more functional smiles they deserve without the need for traditional braces.
Addressing Tooth Misalignment
Your smile's appearance may be the most obvious effect of malocclusion, but it isn't the only reason why straightening your teeth matters. The point of orthodontic treatment is to ensure that all of the components of your bite can open, close, bite, and chew properly, which requires balance and symmetry among your teeth. When this balance is interrupted, the uneven and inconsistent pressure of your bite can end up damaging one or more teeth, forcing others further out of alignment, and causing damage to your jaw's joints and muscles.
Aligners vs. Braces
Traditionally, bringing crooked teeth into proper alignment required the use of braces, which consist of brackets that are bonded to your teeth and arch wire that gently pushes them toward their desired positions. By contrast, clear aligners are designed to fit over your teeth and gradually guide teeth toward these positions. Treatment involves progressing through a series of custom aligners, each one designed to continue your teeth's path of movement by picking up where the previous one left off. By switching brackets and wires for more comfortable and virtually invisiblenvisla aligners, Invisalign® makes orthodontic treatment more attractive for a wide variety of patients.
Learn if Clear Aligners Can Work for You
Invisalign® clear aligners offer a variety of benefits, but their most significant advantage is that they're as effective as traditional braces for patients with a variety of tooth alignment issues. For more information, schedule a consultation by calling Modern Smile in North Hollywood, CA, today at 818-763-9353. We also proudly serve patients who live in Burbank, Toluca Lake, and all surrounding communities.