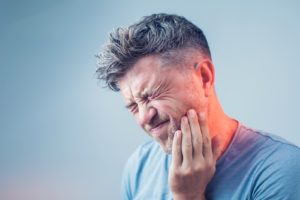 If you've dealt with a toothache for a while, then you may have noticed that it's growing more frequent and severe as time goes by. Even if you've been able to find temporary relief with home remedies here and there, the pain continues because there's an underlying cause behind it. That may include damage to your tooth structure, a developing tooth infection, exposure of your teeth roots, or any number of other potential factors. Until the specific cause is addressed, you won't be able to effectively relieve your toothache.
What Kind of Toothache Is It?
The most common forms of toothaches are caused by some sort of disturbance to your tooth structure. For instance, if your tooth is cracked or fractured, then the nerves might be exposed, leading to intense discomfort every time you bite and chew. If your tooth is starting to grow weaker because its enamel is eroding, then the aching might not be so prominent at first, but will grow more severe as the enamel becomes compromised. In some cases, aching or sensitive teeth can be the result of your teeth roots being exposed due to gum disease or recession.
Treatment and Relief Options
Despite the many possible causes of a toothache, the good news is that they all can be addressed with appropriate care and treatment from your dentist. For instance, if your tooth is fractured, then it can be fixed with a crown, which restores the tooth and seals away its sensitive structures. If your enamel is compromised, then you may be able to strengthen it, or to treat the cavity that has formed before it grows more severe. For patients with gum disease, preventive treatment and laser periodontal treatment can help restore their healthy gums and the protection around their sensitive teeth roots.
Stop Suffering from Chronic Toothaches
Toothaches typically indicate a dental issue that only your dentist can address, so relieving yours may require professional dental treatment. To learn more, schedule a consultation by calling Modern Smile in North Hollywood, CA, today at 818-763-9353. We also proudly serve patients who live in Burbank, Toluca Lake, and all surrounding communities.