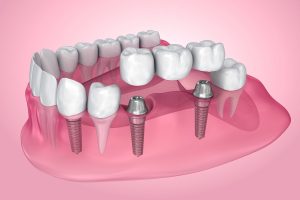 Any form of dental treatment you receive is based on what your smile and oral health need at the moment. Most frequently, that involves routine preventive care to help you avoid most common dental concerns. Sometimes, it means actively addressing a problem that compromises your oral health and managing it before it gets worse. When it comes to treating tooth loss, however, your smile may need more than what's immediately obvious in order to regain its health and integrity. Because of this, dental implants are often the preferable solution for addressing it.
A healthier foundation
Your smile's foundation is impacted in a few different ways when you experience tooth loss. One of the more immediate ways is the manner in which your remaining teeth react to the loss, such as shifting and changing your bite's overall balance. Another consequence is the impact that losing the tooth's root will have on your jawbone structure. After the root is lost, the bone structure in that area will resorb, and the lack of stimulation will cause it to lose mass and density. To restore your smile and preserve the rest of your natural teeth, your restoration will perform better with the help of dental implant posts to replace your lost teeth roots.
A lifelike replacement for lost teeth
The visible part of your dental implant restoration, such as a dental crown, bridge, or denture, plays an equally important role in providing your smile with adequate support after tooth loss. Your restoration will have to be carefully designed to replicate the size, shape, and contour of your healthy tooth structure, which improves your smile's appearance as well as your restoration's ability to restore your bite's balance. With the addition of one or more implant posts, your lifelike restoration can closely replicate the root-and-crown structures of your lost tooth or teeth.
A system of root-like supportive anchors
The support that dental implants create for your custom restoration can be felt almost immediately. When anchored in place, your restoration won't shift and can feel more like your healthy, natural teeth. This also helps you avoid the need for traditional supportive systems, such as dental crowns to support a dental bridge or adhesives to support a full denture.
Learn how to rebuild your smile
After you lose one or more teeth, your smile needs a few specific things from your restoration in order to remain strong and healthy for life. To learn more, schedule a consultation by calling Modern Smile in North Hollywood, CA, today at 818-763-9353. We also proudly serve patients who live in Burbank, Toluca Lake, and all surrounding communities.