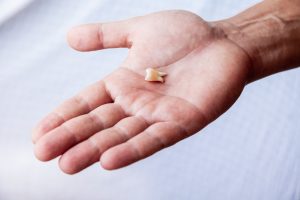 Adult tooth loss can be a frightening experience caused by several different factors, including diet, hygiene, and diseases such as gum disease. It can result from teeth falling out due to periodontal disease or physical accident, and can even result in needing a tooth extraction to preserve the health of your other teeth. Once the problem oral structure is removed from the picture, however, it is important to note the slew of negative effects associated with failing to replace it. At Modern Smiles in North Hollywood, California, we recognize that tooth loss can be a difficult subject, and encourage our patients to learn about the benefits of replacing lost teeth.
What an Artificial Structure Can Do
For most individuals, a complete and healthy smile go hand-in-hand with confidence. This means that having a grin that is cosmetically appealing and blemish-free is significant, and having a compromised smile by exhibiting a noticeable gap can be difficult. When you replace it with an artificial oral structure, however, you are not simply filling the gap. In fact, a custom restoration or crown can be created and implanted to match your grin. In other words, the restoration is shade-matched to your smile so as to closely mimic its natural appearance and complete your grin seamlessly.
How It Helps Your Bite Functionality
Every tooth contains a portion that is embedded underneath the gum line in the jawbone, known as a root. The root acts as an anchor between your pearly whites and your jaw, functioning to absorb the stress of your bite such as when you are biting or chewing food. When an oral structure is missing, it affects your bite by creating unevenness to accommodate for the area that cannot function properly. When this occurs, it can have negative effects such as causing difficulty chewing properly and enunciating.
When you receive a dental implant and restoration, however, a titanium post is inserted into the jaw which then heals around the post and creates a secure bond. This post acts as an artificial root so as to enhance your bite's function by absorbing the stress.
When It Prevents Further Tooth Loss
Typically, when a tooth has been extracted or lost and a replacement has not been placed, your chances of losing more increases dramatically as harmful oral bacteria lurks in the cavities and spreads to healthy structures. By replacing the compromised structure, you are minimizing the chances of infection spreading and losing more teeth. For more information, contact our office today.
Contact Our North Hollywood Office
At Modern Smiles, our team strives to provide quality service and assist our clients in obtaining the life-long smile they dream of. Contact our North Hollywood, California office today by calling 818-763-9353 to learn how a dental implant can save your grin.