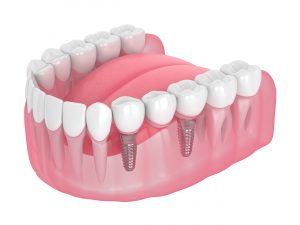 Losing a tooth as an adult can be the result of a number of circumstances. Whether it was knocked out due to a physical injury, lost to infection in the gums, or even from enduring structural damage through teeth grinding that weakened the tooth, the typical causes of loss usually have to do with infection or decay, primarily from oral bacteria. Once it has been extracted, you may believe your worries are over. On the contrary, a number of concerns can actually arise from a gap in your grin. In today's blog, your North Hollywood, CA dentist will address the need to replace a missing tooth and how a custom dental implant can benefit you.
What Happens When You Lose a Tooth?
Losing an oral structure impacts your smile more than just causing a gap. In fact, it can result in strain, discomfort, difficulty biting, difficulty chewing, problems with enunciation, increased chance of future structural loss, and a decline in strength when it comes to protecting your oral health from potential concerns or threats. What's more, the lack of a tooth can cause deterioration in the jaw bone that requires extensive treatment to restore before you can even pursue an implant restoration. In other words, not only will you experience cosmetic concerns, but structural and functional difficulties as well. In order to best combat this, our team recommends seeking restoration through the help of a dental implant.
Restoring Your Function
Keep in mind that your teeth are comprised of two main portions – the crown and the root. The root is embedded in the jaw securely and acts as an anchor for your crown. This relationship not only allows your crown to absorb the pressure of your bite, but in turn, allows your bone to continue to strengthen and protect the roots. In fact, the jaw is the foundation of your smile! So if it becomes damaged and no longer contains enough healthy structure to support a root, it will require treatment such as bone grafting or sinus lift in order to restore the strength.
Enjoying a Complete Appearance
When you come in for your implant placement, your dentist will begin by strategically placing the biocompatible post into the jaw so as to act as an artificial root or anchor. Once the bone heals around it, a tight bond will form and your implant restoration will be able to once again absorb the pressure of your bite effectively. Not only this, but you will once again enjoy a full and complete smile that looks natural. For more information, contact our team today.
Schedule Your Visit
To schedule your visit with our team, contact Modern Smiles in North Hollywood, CA by calling 818-763-9353 to learn more today.