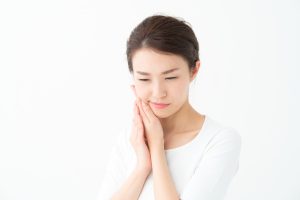 Taking care of your smile is a lifelong process, and an effective preventive dental routine is necessary for adequate oral health. Indeed, threats such as tooth decay, gum infection, and more are common concerns your smile is constantly fending off, but bear in mind they are not the only ones. As a matter of fact, there are a number of nontraditional issues you should be aware of, including the effects of chronic bruxism and TMJ disorder. In today's blog, your North Hollywood, CA dentist explains how TMJ Disorder develops, and what steps you can take to thoroughly care for your smile.
The Primary Cause
TMJ disorder is a dangerous jaw dysfunction that occurs when the lower mandible becomes misaligned or dislocated from one or both of the two temporomandibular joints from which it hinges to the cranium. Though there are a handful of causes for this phenomenon to occur, none are more prominent than chronic teeth-grinding, also known as bruxism.
Bruxism occurs when a person clenches his or her teeth together tightly, then proceeds to move the lower jaw from side to side. This process generates friction and can cause a number of noticeable side effects. For instance, a person who constantly grinds their structures may wake up from a night's rest with a sore or tense jaw, or even have problems being able to fully open their mouth.
Another major concern that accompanies teeth-grinding is the way it harms your structures. For instance, the longer the phenomenon occurs, the more likely your teeth are to become brittle and break or crack more easily. To learn more about this process, reach out to our team today.
What it Means for Your Health
As chronic bruxism continues without necessary treatment, you become more and more susceptible to developing TMJ disorder. When your lower jaw becomes dislocated from one or both joints, a few signs or symptoms you may experience include the inability to open the mouth completely, a popping or clicking sensation in the jaw, and even significant tissue damage. As a result, seeking treatment is necessary for your health. What's more? The longer you wait to seek treatment, the more difficult your situation will likely be to treat. Reach out to our team if you have questions about this process.
Treatment You Can Seek
Our team can help restore your jaw's placement and function through the help of guided splint therapy. It is important to utilize a safe, gradual process so that you do not experience more damage. Further, we can also help set you up with a custom oral appliance to protect your teeth from grinding.
Speak with Our Team
To learn more about jaw health and function, or to schedule your next appointment with our team, contact Modern Smiles in North Hollywood, CA by calling 818-763-9353 today.