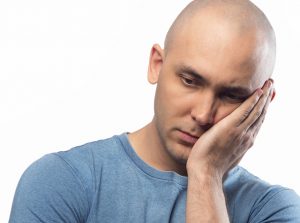 TMJ (temporomandibular joint) disorder isn't the same as most other oral health concerns. For example, unlike the decaying of a tooth or the development of gingivitis, having TMJ disorder can mean something different for everyone. Because of this, the specific cause of the disorder also varies, which can make it difficult to predict if you're going to develop it in the future. Fortunately, there are ways you can reduce your risks of developing TMJ disorder, such as understanding the conditions that can commonly contribute to it, and addressing those concerns before they have a chance to.
What TMJ disorder often means
A TMJ disorder means that a specific problem has developed with one or both of your jaw's joints (TMJs). This might be some form of damage to the joint's structure or tissues, strain or damage to the ligaments, a misalignment in one or both joints, or more. The shared characteristic of all TMJ disorders is that they inhibit your jaw joints' ability to function smoothly and properly. This can place an excessive amount of strain on one or both of the joints, leading a wide range of potential aches, pains, and bite dysfunctions.
What it could be the result of
The damage that your jaw's joints sustain can differ depending on several different factors. In some cases, it results from an imbalance in your bite's overall function, such as a misalignment in your teeth or in your jawbone's shape and symmetry. This strain can wear down or damage your TMJs to the point that your bite experiences further difficulty functioning properly. Your jaw joints may pop and click as they try to adjust to a malfunctioning bite, and your TMJs can become more damaged, exacerbating your TMJ disorder and its symptoms.
How to reduce your risks of it
While TMJ disorder isn't always predictable, you may be able to determine your risk for it if you exhibit one or more of the conditions that can lead to it. For instance, if your teeth are crooked, then straightening them could be an important measure in reducing your risks of developing a jaw dysfunction. If you have a chronic habit of grinding your teeth together, it may be an indication of bruxism (chronic teeth-grinding), and the pressure could eventually damage one or both of your TMJs. By addressing such concerns as early as possible, you can reduce the chances of them impacting the health and function of your TMJs.
Learn how to avoid TMJ disorder
There is no single solution for preventing TMJ disorder, by caring for your oral health consistently and addressing existing concerns promptly, you can greatly reduce your risks of developing it. To learn more, schedule a consultation by calling Modern Smile in North Hollywood, CA, today at 818-763-9353. We also proudly serve patients who live in Burbank, Toluca Lake, and all surrounding communities.