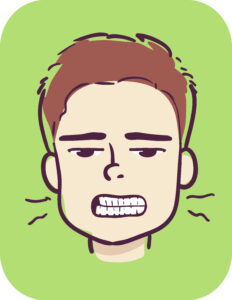 Looking and feeling your best takes a number of forms. These can include seeking some R&R with spa therapy, or simply enhancing your smile's shine, and we want to help you feel happy and confident in your own grin. Just as your cosmetic appearance is important, however, you do not want to let your oral health overall take a seat on the sidelines. After all, your health trumps everything else, and cosmetic treatment is ineffective without a healthy foundation of smile care to support it. In today's blog, your North Hollywood, CA dentist looks at the effects of nontraditional dental concerns such as teeth grinding, and talks about solutions that can help.
What Constitutes Bruxism?
It goes without saying that your smile is affected by many factors. For example, bacteria present in your grin can contribute to tooth decay, gum infection, and even tooth loss. While the last thing a person wants to experience is the loss of a tooth, the truth of the matter is that this issue can arise and occur at a rapid rate. Because of this, your dentist recommends taking part in a thorough preventive dental routine.
Although you have spent the majority of your life combatting the effects mentioned above, it is important to recognize that this only represents a portion of the factors that have influence over your oral health. Other nontraditional issues such as sleep apnea and bruxism can affect your body in many ways.
Bruxism is the name given to chronic teeth grinding, and it occurs when a person tightly clenches his or her teeth together and moves the lower jaw from side to side. To learn more about this process and how it affects your health, give us a call today.
Immediate Signs and Symptoms
When looking at the immediate effects of teeth grinding, there are many that bring your health into question. For example, the tight clenching and friction not only wears down your teeth, but it makes them more susceptible to infection and breaking.
In addition to the damage endured, bruxism can contribute to functional complications. You see, the constant tension can strain your joints, thus making regular functions such as opening your mouth, biting, eating, and chewing much more of a chore than it has to be. Contact our team today to learn more.
Potential for TMJ Disorder
Arguably the most threatening of effects that arises from bruxism is the potential for TMJ disorder. This jaw dysfunction occurs when a person's lower jaw becomes misaligned with one of the two temporomandibular joints (TMJs) at which it hinges to the cranium. Fortunately, an oral appliance may be able to help.
Learn More Today
Contact Modern Smiles in North Hollywood, CA by calling 818-763-9353 to learn more about the damaging effects of untreated bruxism, and schedule your next appointment with our office today.