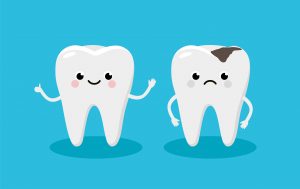 Just as harmful bacteria are at the core of major periodontal concerns, bacteria can lead to the progression of decay as well. In fact, it only takes slipping up on your preventive dental routine one time too many for the concern to quickly get out of hand. In today's blog, your North Hollywood, CA dentist will take a look at the manner in which decay progresses and how you can put a stop to it early on with a composite dental filling.
The Threat of Bacteria
By now you may be aware that every grin contains oral bacteria. These bacteria thrive in the warm, moist, and hard-to-access areas of the mouth such as the gums, in-between teeth, and behind them. With consistent preventive dental care through appropriate brushing and flossing at home, these microorganisms can be kept at bay and you can enjoy your healthy grin. Keep in mind, however, that preventive dentistry is a lifelong commitment, and while skipping out on flossing every once-in-awhile will not immediately lead to tooth loss, letting your guard down can increase your chances of bacterial infection, meaning that bigger complications are more likely to occur down the line.
When bacteria affect a tooth, they do so by first secreting harmful acids to break down your natural structure. Once this has occurred for some time, eventually your tooth will begin to weaken and a hole may form known as a cavity. From here, the decay will spread and become more of a problem, affecting the inner dental pulp and nerves, and eventually will lead to total loss. To avoid losing your structures to decay in this fashion, your dentist may recommend a dental filling to nip the problem in the bud and preserve your natural structure.
Reinforcing Your Teeth
When you come in for your filling procedure, your dentist will carefully but thoroughly remove the infected portions of your tooth, then clean the area to ensure bacteria has been removed. From here, we will apply a composite resin that can be shaped to efficiently fill the hole that was created. Once the material is placed to satisfaction, we utilize a special light to stimulate it and cause it to harden, reinforcing your tooth as it does so. For more information about this process, contact our team today.
A Tooth-Colored Solution
Aside from the ability to restore your smile's function, one of the major benefits of a dental filling is that we utilize a material that can be customized to match your teeth. Essentially, the composite resin can be shade-matched to mimic the exact shade or hue of your grin, providing a near seamless finish.
Schedule Your Visit
For more information about your dental options or to schedule your appointment with our team today, contact Modern Smiles in North Hollywood, CA at 818-763-9353.