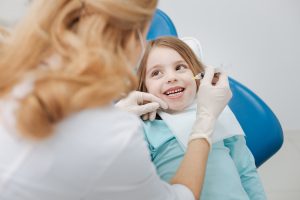 Dentistry in and of itself is a complex area with a number of categories, and each one is unique in terms of treatment and purpose. For instance, surface-level concerns such as chips, cracks, or even noticeable stains can be addressed with cosmetic dentistry, while restorative treatment offers backup protection in the event of an infection or physical threat. Above all, prevention is the key practice that provides protection for your smile, and an effective preventive routine is the only way to establishing a healthy grin for life. In today's blog, your North Hollywood, CA dentist explores the importance behind starting effective care early, as well as what is included in children's preventive care.
Why We Need Prevention
It goes without saying that dentistry is necessary for the overall health of your smile. After all. You are constantly facing the barrage of oral health threats that influence your smile in such a manner that dental decay, gum infection and disease, and more develop. While it can be difficult to provide enough protection against these threats, a consistent routine can help.
Because these threats begin at the moment you are born and continue throughout adulthood, the sooner you start care, the better off you'll be. As a matter of fact, our team recommends bringing your child or children in for their first visit by either the sight of their first tooth or by their first birthday, whichever comes first. This preliminary visit serves to help familiarize your child with our environment and team.
By about the time of their third birthday, we will begin to see your little one more routinely about twice a year, or once every six months. To learn more about this process, reach out to our team today.
Establishing Excellent Habits
Not only is it important to attend routine checkups, but excellent care starts from the comfort of your own home. Indeed, children often tend to mimic the behaviors and habits exhibited by their parents, which means if you show you are excited about your preventive routine, the chances of getting your little one excited about his or her care as well.
Additionally, habits take time to form, and the earlier you start, the sooner your little ones receive the care they need to maintain healthy smiles, as well as the resources to do so.
Additional Treatment
Because tiny grins are still developing, it makes sense that occasionally they could use a boost of strength. Indeed, our team offers sealant and fluoride treatment to keep away harmful bacteria and make it easier to maintain a healthy and youthful grin.
Learn More Today
To learn more about the benefits of children's dentistry and how our team can help, contact Modern Smiles in North Hollywood, CA by calling 818-763-9353 to schedule your next appointment with our team today.