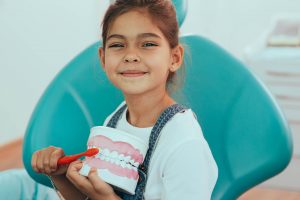 It goes without saying that maintaining a healthy grin is a constant process. Brushing and flossing alone are not enough, and you must take into account routine dental visits, preventive care at home, the foods and beverages you consume, and how they all work together to prevent development of major concerns such as decay, infection, and tooth loss. That being said, it is best to begin this conscious thinking early on, which is why we believe it is never too early to start care. In today's blog, your North Hollywood, CA dentist will discuss what is covered during your child's dental visit and how it aids in building a lifelong grin.
Checking for Excellent Development
To best assist in the healthy development of your child's smile, we recommend bringing him or her in at the onset of their very first baby tooth or their first birthday. While we will not provide a cleaning or procedure such as this during this initial visit, we will begin the process of tracking your child's structural development as well as familiarize him or her with our team and our office. By the time of your little one's third birthday, we will begin treating them regularly for examinations and cleanings alongside monitoring the development of their teeth. The sooner the process begins, the better, so as to ensure your child's comfort and familiarity with important aspects of dental health. For more information, contact our team today.
Removing Harmful Threats
In addition to your child's examination, we will also provide a gentle cleaning to ride the grin of any potential threats such as plaque or tartar buildup. Oral bacteria are present in the mouth, and tend to thrive in the warm, moist, and hard-to-clean regions of the mouth such as behind and between teeth, and near the back molars. If permitted to grow, these bacteria will continue to feed on sugars and secrete harmful acids that aid in breaking down a tooth's natural structure. This can ultimately result in plaque and tartar buildup, decay in the form of cavities, and much worse if allowed to continue. We will carefully remove these bacteria and polish the surfaces of teeth in order to prevent easy reattachment, and then your little one will be good to go!
Ways to Boost Their Strength
While preventive care at home and in-office is needed for a healthy smile, sometimes it may need an added boost of strength. We offer treatments to accomplish this, including fluoride treatment and dental sealants. Fluoride is a naturally occurring mineral that is present in enamel, building up the softened portions and increasing protection. Dental sealants consist of painting a thin layer of acrylic on the surface of a molar to prevent bacteria from making a home in any small nooks and crevices.
Schedule Your Little One's Appointment
It is never too early to begin excellent preventive habits. Contact Modern Smiles in North Hollywood, CA by calling 818-763-9353 to schedule your family's visit or learn more today.