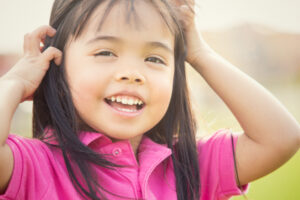 Childhood is the perfect time to instill great oral healthcare habits into your children. Once they are familiar with and comfortable visiting the dentist regularly, there is an increased chance they will continue going every six months for checkups once they are adults. A major component of great oral health — especially for children — is practicing preventative care. This is the practice of preventing issues before they occur. Cavities, one of the most common ailments, are a common focus of preventative dental care. Fluoride treatment is one of the most effective ways to stop cavities before they develop. In today's blog, your North Hollywood, CA dentist discusses this treatment, and the role it plays in stopping cavities dead in their tracks.
Understanding Fluoride
Many of us have heard of fluoride repeatedly throughout our lives but might not know exactly what it is. It's a naturally occurring mineral that is commonly found in our bones and teeth. When your child is exposed to it, either in a directed treatment or in water, it helps strengthen their enamel. Enamel is the outermost protective layer of our teeth, and while it is one of the strongest substances our bodies produce, it can weaken over time, making your child's teeth much more susceptible to decay. When fluoride is applied to their teeth, the enamel remains strong and effectively works towards preventing cavities. An article by Dr. Brittany Seymour provides her real-life experiences with fluoride and the significant benefits it has for small smiles. When you bring your kid in for their regular checkups and cleanings, we can provide this mineral to their teeth in addition to making sure there aren't any other issues developing.
Additional Pediatric Dental Services
Dental sealants are another fantastic preventative measure that your kids can take advantage of. Sealants are thin pieces of acrylic that go over their back teeth and work as a barrier to prevent food and harmful bacteria from settling into their teeth. Because they mostly chew with their molars, this area is particularly susceptible to bacteria that can cause cavities. The process of applying sealants is very simple but provides major results. According to the ADA, sealants can cause an 80% reduction of harmful bacteria in children's mouths.
When you bring your child in for any of our pediatric dental services, we will teach them the best brushing and flossing techniques. This ensures that their efforts at home are both efficient and effective. Brushing and flossing are two of the best ways to prevent decay, so it is crucial they know how to do it properly. Additionally, the more they visit the dentist the more comfortable they will be on subsequent trips, which helps make sure they will continue going as they reach adulthood. 
Schedule An Appointment To Learn More About Fluoride Treatments
If you have any questions about fluoride treatments or any other children's dental services we offer, please do not hesitate to contact us. You can schedule an appointment by calling Modern Smiles in North Hollywood, CA at 818-763-9353