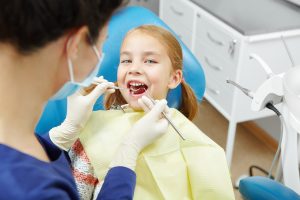 Dentistry in and of itself is a complex practice, as it involves taking care of your smile's appearance, preventing damage, and restoring structures, and reinforcing strength. Indeed, your grin experiences a significant number of threats over the course of your life, and more often there are significantly more threats than there are items that can help. Because of this, your dentist recommends getting an early start on your preventive care, and the earlier the better. In today's blog, your North Hollywood, CA dentist discusses the importance of children's dentistry, and how you can contribute to an effective care routine.
Starting Prevention Early
Whether you are aware of it or not, preventive dentistry is the foundation for a lifelong, healthy smile. Indeed, your grin faces a barrage of threats, including infection, decay, structural damage, and much more. This means that you are constantly fending off these threats, and falling short in your dental routine only exacerbates the problem.
Taking care of your smile means much more than brushing your teeth. After all, oral health is comprised of all aspects within your oral cavity. These include teeth, tongue, cheeks, gums, lips, roots, and throat. To best manage your oral health, we recommend a well-rounded routine that takes most of these factors into account.
Because oral health concerns never formally stop, it is best to start preventive practices as soon as possible. As a matter of fact, our team recommends bringing your little one into our office for their first checkup by either the sight of their first tooth or by the time of their first birthday, whichever comes first. This visit is a preliminary visit that will allow your child to become familiar with our team and our office. Reach out to our office to learn more about this process today.
Scheduling Routine Checkups
Caring for younger smiles is similar to caring for adult teeth, but frequency and quality matter more in the early stages of life. The reason for this is because teeth are developing, and the better you take care of them early, the stronger and more durable they will become for life.
To ensure proper development, we recommend bringing your children in for routine checkups and cleanings by about the age of three. At this point, we will begin seeing your little one every six months for quality care.
Additional Treatment
In addition to excellent practices at home and attending routine visits, we also provide additional treatment to help provide a boost of strength. The next time you visit our office, ask our team about dental sealant and fluoride treatments for your family.
Learn More Today
To learn more about the importance of children's dentistry or to schedule your next appointment with our office, contact Modern Smiles in North Hollywood, CA by calling 818-763-9353 today.