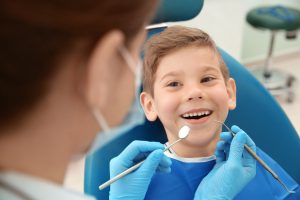 After teaching children the basics at a young age, the next important thing is teaching them how to take care of their health and hygiene. It is never too early to teach your child good oral hygiene habits, and creating a habit of brushing their teeth is essential. Similar to adults, however, simply brushing and flossing is only half the battle, and understanding that toothaches and other symptoms can be indicative of even bigger issues. At Modern Smiles in North Hollywood, California, we emphasize the importance of protecting your family's teeth from a young age and want to provide information on how we can help to do so.
Preventive Care for Children
Children's dental care and treatment are not all that different from adults when it comes to ways to preserve your health. It is important to note, however, that since children are still developing and growing, protecting their teeth from harm is crucial. Knowing what causes inflammation, toothaches, and other symptoms can prevent future development of tooth decay, gum disease, and more, in addition to avoiding the extensive treatments that are needed to remedy them. After all, maintaining good hygiene and preventive care are the cornerstones for keeping your child's smile healthy.
Examinations and Cleanings
Like adults, children must attend routine check-ups and cleanings to ensure the safety and healthy development of their teeth. During the examination, your dentist can identify any warning signs of developing conditions or oral health concerns, as well as provide a full cleaning to remove any harmful bacteria, plaque, or tartar that has formed or is building up. When plaque forms and begins to build up, tartar can form. Tartar is calcified plaque that becomes difficult to remove the longer it is left untreated, so it is important to come in for routine examinations and cleanings to take care of it. At a minimum, we recommend attending an appointment to do so at least once every six months.
Children's Dental Treatments
Since your children's teeth are still growing and developing, it is important to make sure steps are being taken to preserve their smiles. Many children can benefit from dental treatments such as dental sealants, which consist of biocompatible acrylic that forms a thin barrier of protection between the enamel on your child's teeth and harmful bacteria. Additionally, fluoride treatments can help increase the strength of your child's enamel to protect the teeth.
Learn More About Caring for Younger Smiles
Just like adults, younger smiles should be protected by following good oral health habits at home and attending routine examinations and cleanings in order to maintain a happy and healthy appearance. For more information, contact our North Hollywood dentist at Modern Smiles by calling (818) 763-9353 today.