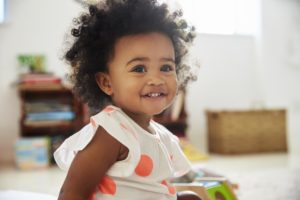 Tooth decay can impact children of all ages, from toddlers to teens. But what can you do protect their smiles? In today's blog, we're discussing the causes of cavities and the preventive treatments we can offer to help kids in Hollywood, CA, enjoy a cavity-free smile!
Try Our Quiz on Protecting Kids from Cavities
True or False: What we eat and drink can lead to decay.
True or False: We can offer fluoride treatments.
True or False: Dental sealants can help prevent cavities.
True or False: Toothaches can be a warning sign.
Answer Key
True. When we consume foods and beverages high in sugar, particles remain behind on or between the teeth. As bacteria break down these particles, oral acidity elevates and the enamel can begin to erode, leading to the onset of cavities. While you may know that soda and energy drinks can lead to decay, other harmful drinks include sports drinks, fruit juice, and even milk (especially for younger kids that may fall asleep with a bottle of juice or milk). Foods high in sugar and starch can also promote tooth decay.
True. We apply fluoride to strengthen the outer enamel, which protects the teeth from damage and cavities. The mineral is applied to the teeth in a varnish form and only takes minutes to place, but can provide serious protection for little smiles.
True. Dental sealants are a thin layer of acrylic applied to the back teeth, which are often difficult for children to reach when brushing and flossing. The sealant prevents food from becoming stuck between the teeth and while also safeguarding smiles against enamel erosion.
True. Remember, if your child complains about aches or sensitivity that last for more than 48 hours, this could be a sign of a cavity. Be sure to see us right away!
We can Help Your Kids' Smile!
We can offer caring children's treatment for kids of all ages. For more information, schedule a consultation by calling Modern Smile in North Hollywood, CA, today at 818-763-9353. We also proudly serve patients who live in Burbank, Toluca Lake, and all surrounding communities.