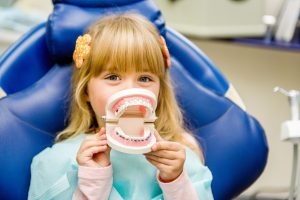 It goes without saying that humans value their smile's appearance to a great extent. After all, it is often the first physical attribute an individual notices about another. Without proper preventive care, however, a set of teeth would be far from ideal and shiny. Indeed, your health is the most important aspect, and making sure to have an effective routine down sooner is better than doing it later. In today's blog, your North Hollywood, CA dentist takes a look at the importance behind children's dentistry, and how it is never too early to start effective preventive care.
It is Never too Early to Start
Because our smiles are constantly facing the threat of a myriad of daily concerns, we must take care to practice an effective routine to keep our teeth healthy and happy. This includes brushing and flossing at home, paying mind to the negative effects of certain foods and beverages, and attending routine checkups and cleanings at least once every six months.
For best results, our team encourages our patients to start their preventive journey early. This means bringing your little one in for his or her first appointment by either the age of one, or by the sight of his or her first tooth. When attending this visit, our team will take care to help familiarize your children with our office and staff so that future visits are calmer and more relaxed.
By about the age of three, we will begin to see your son or daughter regularly for a routine checkup and cleaning. From here, we encourage you to bring your family back once every six months in order to properly monitor smile development, and ensure that minor concerns do not develop into major ones.
Prioritizing Your Children's Health
Taking care of your little one's smile includes taking the time to teach them proper preventive skills at home. This includes brushing and flossing properly so that cavities and other concerns do not form. What's more? Getting your children excited about their health can be easier to accomplish if you lead by example, as many children mimic behavior from their parents. To learn more about this process, reach out to our team today.
Treatment for Additional Strength
Because smaller grins are still growing and developing, they can sometimes use the help of additional children's dental treatment. Procedures such as dental sealants and fluoride treatment can add an added layer of strength to the front of teeth, as well as provide added protection from oral bacteria that are lurking in the recesses of the mouth.
Schedule Your Appointment
Contact Modern Smiles in North Hollywood, CA by calling 818-763-9353 to learn more about effective preventive care or to schedule your appointment with our team today.