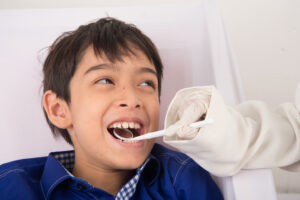 As a parent, you want what's best for your child's health. This is why you provide recommended vaccines and take them to the doctor regularly for checkups. This should also be true for their oral health. After all, you want to set them up for a lifetime of having healthy, radiant teeth. Because of this, it is paramount that you bring them to the dentist every six months for regular checkups and cleanings. You should also instill in them the knowledge that brushing and flossing every day is essential. Another helpful tool for a lifetime of great oral health is dental sealants. In today's blog, your North Hollywood, CA dentist discusses the benefits of sealants and of children's dentistry in general.
What Are They And What Do They Do?
Dental sealants are thin pieces of biocompatible film that go over your child's molars. They are applied here because this is where most chewing is done and have the highest likelihood of having food particles sticking here. When your child goes in for the procedure, their dentist will paint on a BPA-free acrylic that then hardens into a protective barrier. Once they have been applied, they serve a layer that prevents particles from touching their teeth. This, in turn, mitigates the growth of harmful bacteria, which then limits the risk of tooth decay. According to the American Dental Association sealants can reduce the risk of decay by up to 80%. With such a decrease in the likelihood of decay, your child will be set up for having a healthier smile as they grow into adolescence. Once in place, they should remain intact for between 5 and 10 years.
Additional Procedures For Children
Another common dental procedure for children is a fluoride treatment. This strengthens the enamel of their teeth. Enamel is the outermost protective layer of teeth, and it is made up almost entirely of minerals. While it is one of the strongest substances our bodies produce, it can still weaken over time. Fluoride treatment helps the enamel stay strong, which can limit the chance of decay developing. When your child can avoid decay, they will not have to undergo more intrusive procedures like receiving a dental filling. It is also important to bring your child in for exams and cleanings every six months. This way, their dentist can monitor the health of their mouth and see if any issues are developing. Additionally, visiting the dentist at a young age will allow them to get used to these helpful checkups as they get older.
Contact Us To Learn More About Dental Sealants
It is important to set your child up for a lifetime of great oral health, and we are here to help. Contact Modern Smiles in North Hollywood, CA by calling 818-763-9353 to schedule your next appointment with our team and learn more about the benefits of children's dentistry.