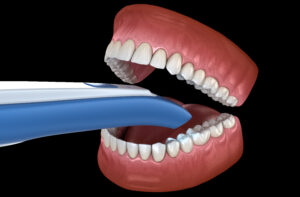 When we want to restore teeth, replace missing teeth, or use aligners and appliances to correct issues with misalignment and jaw joint strain, we want options personalized for your smile. To do so with precision, your North Hollywood, CA, dentist will employ the iTero® digital scanning system.
The Old School Method
You remember how it used to be, right? You could choose the flavor of a mushy material but it wouldn't matter since it all tasted like chalk anyway. You bit down on metal mold and hold this bite, and the process often had to be repeated to obtain a viable impression. Luckily, we haven't used this option in decades. Instead, we've opted for a more comfortable and accurate digital alternative known as iTero®.
The Advanced iTero® Method
With iTero®, we will use a device that contains a miniscule digital camera at the end of a thin wand. Which means we can gather detailed images of your smile from multiple angles quickly and comfortably, no need for bitewings and no need for molds filled with gooey materials. We then upload these images to a chairside monitor, and use them to create a detailed 3D image of your smile as a whole. The images are very detailed and allow us to focus on specific areas of your smile to make a diagnosis with accuracy and precision, and to also plan treatment. The process is not only more accurate, but limits how long you spend in the chair and provides greater detail when treating your oral health concerns.
Treating Your Oral Health Concerns
Our team can use these digital impressions to design and create a series of clear plastic aligners, so you can enjoy orthodontic treatment with Invisalign® aligners instead of metal braces. Our team can also create custom oral appliances that help treat concerns like TMJ disorder and bruxism (teeth grinding). If you have damaged teeth or one with advanced decay or infection, we can design custom restorations like crowns with precision. We can also create bridges, dental implant restorations, and other options to address tooth loss. Again, this can be done with precision and accuracy, and a shorter time in our office.
Now is a great time to seek treatment, as the holiday season is beginning and you can obtain results before you attend your next big get-together or holiday party. If you have any questions or concerns about how we diagnose and treat oral health issues with the iTero® digital scanner, then contact our team today.
Ready to Schedule an Appointment?
We want to offer care that is customized for your smile. To schedule an appointment with our team, give us a call at Modern Smiles in North Hollywood, CA at (818)763-9353.