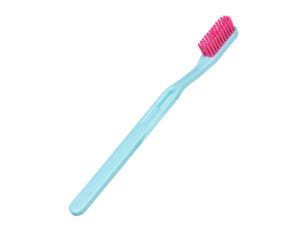 It goes without saying that many people place a great emphasis on the goal of obtaining a youthful smile. After all, a person's smile can communicate their overall levels of confidence, happiness, and level of dental care, so why wouldn't people want to join in? Though it can be easy to become engrossed in this process, it is important not to forget that your oral health is your ultimate priority. In today's blog, your North Hollywood, CA dentist revisits the proper manner to brush your teeth, as well as offers advice on how to provide better care overall.
Don't Brush too Hard
Though dentistry covers a vast number of areas, the most important thing for you to consider is your level of preventive care. You see, restorative, cosmetic, and emergency dentistry offer unique ways to address issues that have already developed, but dental prevention is the only practice out there that aims to keep structures strong. In other words, dental prevention is the process of strengthening your protection against infections, bacteria, and other concerns.
Without preventive care, our smiles would not be able to withstand our lifespan. This is because various bacteria, germs, and other concerns are constantly threatening our structures, and without the efforts of teeth brushing, it would be impossible to keep these factors at bay.
When we ask our patients about their preventive practices, most are quick to look at brushing. Indeed, brushing is essential for removing deposits of bacteria-laden plaque. Keep in mind, however, that brushing too hard can actually cause more harm than help, leading to enamel erosion and reduction in protection. To learn more about this process and how you can intervene, give our team a call today.
Avoid Overbrushing
In a similar manner as brushing too hard, performing such an action too frequently can also cause your protective layer of dental enamel to wear down. Not only is enamel your only natural defense against bacterial threats, but once it is gone, it is gone for good and will not come back. Make sure you brush between two and three times a day, and avoid using too much pressure. Contact our office today to set up your next visit.
Don't Forget Other Practices
Finally, it is necessary to recognize that your oral health is influenced by more than the status of your teeth, which means your preventive routine should be reflective of this. For example, in addition to brushing, you will want to make sure you are flossing between meals, rinsing with antiseptic mouthwash, and attending routine checkups and cleanings every six months.
Learn More Today
Contact Modern Smiles in North Hollywood, CA by calling 818-763-9353 to schedule your next appointment with our office, and learn more about the importance of a thorough and consistent dental routine.