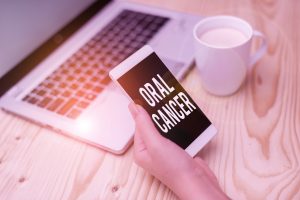 In our previous blog, we discussed the importance of an involved routine to take care of your smile, including ways you can prioritize its health, strength, and vibrancy. While our most common threats consist of decay and other bacterial concerns, the truth is nearly everything can have a negative influence on your grin. Because April is oral cancer awareness month, your North Hollywood, CA dentist has dedicated today's blog to discussing just how threatening those dangers can be, as well as steps you can take to reduce your chances of developing the issue.
It Targets Anyone
By now many people know that practices such as tobacco use cause a myriad of health concerns, and unsurprisingly, mouth cancer is among them. What many do not know, however, is that this is not the only problem and staying away from tobacco is not necessarily a guarantee that the phenomenon won't develop. Indeed, any person of any age can become affected by oral cancer, so it is imperative to keep in mind practices that reduce your chances of development.
Mouth cancer occurs when cells that are contained within the oral tissues mutate, causing them to continue to grow in size instead of dying at completion of the cell cycle. Indeed, any area contained within the oral cavity can fall victim to this phenomenon, including the gums, tongue, cheeks, throat, lips, roof of the mouth, and floor of the mouth.
Sings and Indicators
Individuals that become affected by oral cancer may experience one or more of a number of symptoms. These can include a lip sore that does not heal, a red or white rough patch within the mouth, mouth pain, ear pain, loose teeth, a noticeable lump or other abnormality, difficulty swallowing, and pain when swallowing. If you suspect that you have experienced one or more of these symptoms, please reach out to our team to learn your options today.
At this current point in time, it remains unclear what exactly causes these cell mutations, but research has shown that tobacco use, transmission of human papillomavirus, significant alcohol consumption, and excessive lip exposure to the sun can increase your chances of development.
Steps You Can Take
Even though there is not currently a definitive means of prevention, your chances of developing oral cancer can reduce in probability by taking a few additional steps. First, you can ask our team about an oral cancer screening the next time you visit for your checkup and cleaning. In addition to this, ceasing use of tobacco, reducing alcohol consumption, and avoiding significant sun exposure can all reduce your chances.
Learn More Today
For more information about this process or to schedule your appointment with our team, contact Modern Smiles in North Hollywood, CA by calling 818-763-9353 today.