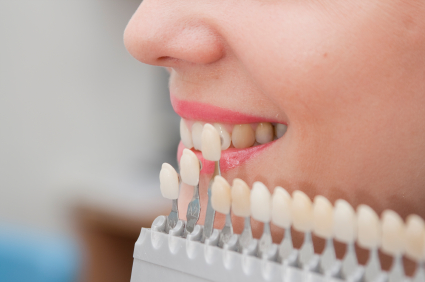 Have you wondered how some celebrities or maybe someone you know, have such beautiful smiles? Its' not always genetics! Although some people are blessed with good genes and naturally beautiful teeth, many can achieve that ideal smile with a little help from cosmetic dentistry. A lot of what you see is carefully planned and developed cosmetic dentistry using Veneers and Gum Contouring. Veneers can be a wonderful way to spruce up your smile and if you're looking for ways to achieve that our cosmetic dentist, Dr. Tajik at Modern Smiles has some tips for you.
Who is an ideal candidate for cosmetic dentistry?
Almost everybody! If you have teeth or maybe missing some teeth, cosmetic dentistry can change the way you feel about your smile. At Modern Smiles we always like to make sure that our patients have healthy gums and a good foundation prior to starting any cosmetic work.
What are my options?
Cosmetic dentistry includes treatments such as:
Cosmetic dentistry can help achieve not only a beautiful smile, but also help your overall health and confidence in as little as 2 appointments.
Where can I get this done?
At Modern Smiles dental Spa in North Hollywood, we offer some of the most advanced tools and technologies to offer you results that create that "wow" factor while keeping you comfortable and relaxed. Come check out our facilities and judge for yourself. Dr. Tajik has spared no expense when it comes to making his patients and his work.
When can I start?
Your new smile is already waiting for you at Modern Smiles and our staff are ready to make your dreams a reality. We are available weekdays and weekends and will do everything in our power to help you maximize your full potential.
Why should I do this?
Your smile is a reflection of your confidence and self esteem. Even A small and pain free cosmetic treatment can go along way in affecting your overall life. Call us today to find out what you have been missing.
ABOUT YOUR NORTH HOLLYWOOD, CA DENTIST:
Dr. Tajik provides all of our patients with a comprehensive modern dental evaluation in a warm, and friendly environment. We offer free consultations and have late and weekend appointments. Call to schedule your appointment at Modern Smiles in North Hollywood, CA, today at (818) 763-9353.