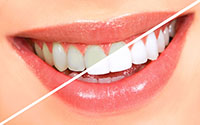 Whitening is one of the highest sought after treatments at our Dental Office in North Hollywood and with advances in whitening technologies we can achieve dramatic results in a short period of time and painlessly. Both take home and in office whitening procedures utilize a similar key ingredient, either Hydrogen Peroxide or Carbamide Peroxide, to remove surface stains and color from tooth.  Carbimide is a more complex and bigger molecule that breaks down to form Hydrogen Peroxide and therein lies its advantage of causing less sensitivity and irritation to the surrounding tissue. However, Carbimide Peroxide requires a longer treatment time to achieve similar results, but both agents have been proven to deliver similar long lasting results if used properly.
What does make a significant difference in effectiveness of these agents is how they are applied. For take home kits, a custom designed and shaped bleaching tray with proper reservoir space for the bleaching material is critical in obtaining effective results and protecting the gum tissue from a chemical burn. At a study done in the Indiana University School of Dentistry confirmed this finding as a critical factor in achieving significant and long term results. Furthermore, properly cleaning the teeth to remove the oils, bio-film and smear layer that forms on teeth from our saliva, bacteria and food can impact how well the bleaching agents work.
In office professional bleaching techniques such as Zoom or Biolase Laser address the shortcomings of the take home methods and achieve proper contact between agent and teeth while protecting the soft tissue. The pre-bleaching prophylactic cleaning removes all surface contaminants to allow for uniform penetration and contact area between the bleaching agent and tooth surface. In addition, the gum are covered by a layer of protective dressing which prevents any damage to the sensitive gingival tissue. The occasional sensitivity experienced after an intensive whitening session by some patients is also addressed at Modern Smiles dental office in North Hollywood by our experienced Dentist, Dr. Tajik.  Dr. Tajik utilizes a dual action desensitizing agent that is applied to the teeth before the treatment to maximize patient comfort during and after whitening. This is a crucial step in the process that is often skipped by novice or inexperienced providers.
The latest advancement in bleaching is the use of Diode lasers as an accelerator to achieve even more dramatic results in about half the time. The shorter duration is further beneficial by reducing the amount of time teeth are exposed to the bleaching agent hence less drying of teeth outer enamel layer.
To learn more about whitening and how to properly achieve your desired smile, contact us at 818.763.9353 or book your appointment online.