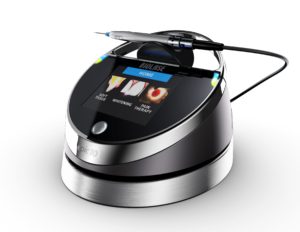 In the past decade we have seen an explosion of research into the clinical applications of lasers in dentistry. Once regarded as a complex technology with limited uses, there is a growing awareness of the usefulness of lasers in modern dental practices. Here at Modern Smile of North Hollywood Dr. Tajik incorporates lasers as adjunct or alternative treatment options to traditional approaches. The particular laser technology used by Dr. Tajik , the diode laser, has become the most commonly utilized laser in dentistry. Diode lasers have numerous advantages over traditional surgical techniques including faster healing, less pain, and new applications such as TMJ treatment and teeth whitening.
Furthermore, for our patients, the use of lasers means less post-operative pain and therefore less need for medication. Not only that, but our dental office benefits too, because satisfied patients are the best way to ensure success.
Some Commonly Performed Procedures
Pocket Disinfection:
Scaling and root planing, also knows as a deep cleaning, is a commonly performed procedure to treat periodontitis and gum disease.  Although this disease has a bacterial etiology, little of the conventional technique is directed toward the causative microorganism colonies, many of which are trapped within the granulation tissue and diseased epithelial cell layer. High doses of powerful adjunctive antibiotics such as Arestin can be used to address the causative bacteria in conventional therapy, However, pigmented anaerobic microorganisms including Prevotella intermedia and Porphyromonas gingivalis can be difficult to eradicate with this method. The wavelengths of diode lasers are well absorbed by these bacterial types. Photonic energy penetrates into granulation tissue and diseased epithelium and causes these microorganisms to warm to coagulative temperatures and dramatically reduce their number and ability to form colonies for up to 90 days
Gum Contouring:
Dental aesthetics involve much more than just teeth. The gums are a major factor in complementing the height, width, coronal form and to an extent, color of the teeth and how your smiles appears. Hyperplasia  or overgrowth of the gums occurs from a variety of events and conditions such as prior episodes of periodontal disease, food impaction, pathological lesions, and orthodontic appliances, among others. A diode laser is a very useful instrument in gum reshaping or contouring gingival tissues back to normal size and shape. Restorations of any type are enhanced when placed in a  properly shaped and treated gum line. Not only the quality of the restoration is enhanced but also the physical properties of the restoration and their longevity is optimized. Ideal impressions can also be achieved consistently when the gums are healthy and properly contoured.
Oral Lesions and TMJ Pain:
Many ulcerative and inflammatory lesions are easily managed with the diode laser. Due to the lasers ability to penetrate and target pigmented viral or bacterial agents originating under the skin  it is now possible to treat conditions such as aphthous ulcers, herpetic lesions both of the lip and intraoral tissues, angular cheilitis, denture sores, inflammation of the mucosa, and TMJ pain. Most of these lesions can be rendered pain-free in a matter of minutes with diode wavelengths without contacting the lesion and without the need for any local or topical anesthesia. TMJ disorders cause tenderness and pain in the temporomandibular joint (TMJ) — the joint on each side of your head in front of your ears, where your lower jawbone meets your skull. This joint allows you to talk, chew and yawn. Between 5 and 15 percent of people in the United States experience pain associated with TMJ disorders, according to the National Institute of Dental and Craniofacial Research, part of the National Institutes of Health. Women are more likely than men to develop TMJ disorders. In most cases, pain and discomfort associated with TMJ disorders can be alleviated with self-managed care or nonsurgical treatments such as laser therapy.
Patients who visit our North Hollywood dental office with painful lesions or TMJ are overwhelmed by the simplicity and relief provided by diode lasers without the need for prescription medications which are of little immediate benefit.
Lasers have enabled clinicians to provide a new level of modern dentistry that was not possible in the past. To learn more about how we utilize lasers to provide the best possible dentistry here at Modern Smiles in North Hollywood call our office or book an appointment online. We look forward to seeing you.