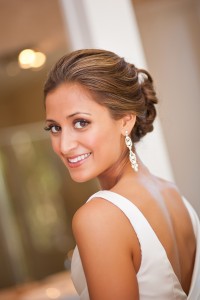 At Modern Smiles Dental Spa in North Hollywood we are accustomed to preparing our patients for the wedding season and give their smiles a boost before the big day. We want your smile to be just as ready for all the pictures and videos that will be taken as your makeup and dress. Therefore, each season we help both grooms and brides obtain that picture perfect smile that will be remembered for years.
There are some very quick and simple treatments that can be done to help improve your smile. If you are simply concerned about the color of your teeth, the fastest and most cost effective way is our professional single appointment teeth whitening. We offer two different types of whitening methods at our dental office in North Hollywood: BioLase Laser and Zoom!® teeth bleaching. The Biolase laser uses an special laser activated whitening gel that is the most effective and newest technology designed to lighten your teeth to the shade you desire without the sensitivity common with some of the more traditional methods. Clinical studies have shown that Biolase Laser can perform a full-mouth whitening procedure with an average of 6-8 shades improvement in 20 minutes of treatment time with long lasting results!
Zoom!® teeth whitening treatments are also an in-office treatment and very effective at removing tea, wine, smoking, coffee and natural aging process stains that accumulate on your teeth over the years. The main ingredient of this gel, Hydrogen peroxide,  penetrates deep in the outer and inner layers of the tooth to erase tough stains and whiten your teeth 3-4 shades in an hour. Zoom and Laser are both ideal methods to whiten your teeth when in a time crunch. We also include a complimentary full mouth polishing and cleaning with each of our in-office whitening treatments to give you the best result possible.
Additionally, if you are concerned about a gummy smile, we can use our specialized dental laser to reshape and recontour your gum line in as quick as half an hour with almost no post surgery bleeding or swelling. The results are a significant improvement in the length and appearance of your own natural teeth that transforms your smile. Combine this a whitening treatment and you practically have a brand new smile in a single appointment! Check out our Yelp, Instagram,  Facebook or online smile gallery to see some amazing before and after photos of our smile transformations.
To learn more about Laser or Zoom!® whitening treatments, or to schedule an online appointment with Modern Smiles, please contact us online or call us at (818) 763-9353 today