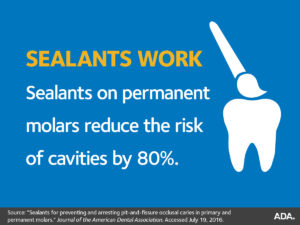 A new systemic clinical review from the American Dental Association and American Academy of of Pediatric Dentistry have reaffirmed that Sealants are a very effective treatment in prevention of decay in children or adults. Dental sealants are a thin and tooth colored resin material that fill in and adhere to naturally occurring deep grooves that are hard to reach  with a brush and protect them from developing decay. This simple procedure requires  no drilling or anesthesia and is very comfortable and easy to perform.
"Sealants are a proven and effective therapy for preventing cavities in children and teens. Oral disease can greatly impact one's concentration and self-esteem" was said by lead author of the study, Dr. Wright DDS. Some of the other significant findings of the study concluded that sealants should be routine part of the cavity prevention and that children with sealants are 80% less prone to cavities compared to those without them.
Our professional dentists at Modern Smiles in North Hollywood incorporate a variety of preventive strategies, such as Sealants and Laser Decontamination, for reducing dental disease in children and teens. If you are concerned about your oral health or your family's make an appointment for a comprehensive dental exam at our state of the art dental office in North Hollywood. Our completely digital workflow together with our compassionate dentist will ensure an efficient and comfortable process from start to finish. At Modern Smiles we strive to provide your family with a lifetime of healthy and beautiful smiles.