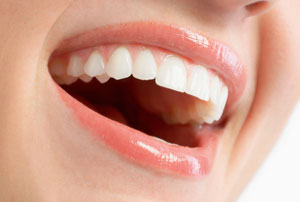 If you have recently done a smile makeover using porcelain veneers, you are likely enjoying  your dazzling brand new smile. While dental veneers are an excellent way to change the shape and shade of your teeth and boost your self-confidence, they are not invincible. Knowing how to protect your cosmetic dentistry investment will help make it last.
Porcelain veneers are thin, like contact lenses,  tooth-colored porcelain shells that are bonded directly to your existing teeth. Veneers crafted by our dentist in North Hollywood, Dr. Tajik,  are durable, stain-resistant and customized to create a beautiful smile.  As strong as veneers are, just like your natural teeth, they need proper care and protection. Here are some things to keep in mind:
Grinding or Clenching
Teeth grinding, clenching or Bruxism are habits that places excessive pressures on your teeth. Many patients grind their teeth during their sleep as a way for body to de-stress itself. To ensure you're not damaging your veneers while you're catching some sleep, talk to your dentist about getting a night guard. This simple appliance can protect your teeth and your jaw joints from working too hard!
Periodontal Disease and Plaque
While the veneer itself can't get a cavity, the underlying tooth certainly can.  Bacteria borne is dental plaque that accumulates in the mouth can still damage your gums and the underlying bone structure of your teeth. It is important to maintain diligent oral hygiene especially after receiving your new veneers. You are still at risk of tooth decay and gum disease, which can affect the longevity of your veneers.
Bad Habits
If you want to retain your beautiful veneers, go ahead and kick bad habits such as chewing ice, smoking, opening bottles with your front teeth and biting fingernails. These are surefire ways to ruin your custom smile.
Dental Trauma
If you play sports we applaud and encourage you to continue to do so, however, make sure you wear proper protective gear to keep your new smile safe while you are on the field. A custom athletic mouth guard is an essential piece of equipment that will help protect your dental veneers against accidental damages.
At Modern Smiles Dental Spa in North Hollywood, we make every effort to maintain and extend the life of your veneers and make sure you understand how to protect your new smile for many years to come! Contact us or book an appointment online to receive a modern smile evaluation.