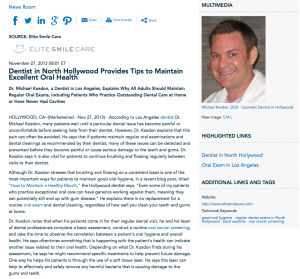 Dr. Kasra Tajik, a dentist in Los Angeles, explains why all adults should maintain regular oral exams, including patients who practice outstanding dental care at home or have never had cavities.
Hollywood, CA — According to Los Angeles dentist Dr. Kasra Tajik, many patients wait until a particular dental issue has become painful or uncomfortable before seeking help from their dentist. However, Dr. Tajik explains that this pain can often be avoided. He says that if patients maintain regular oral examinations and dental cleanings as recommended by their dentist, many of these issues can be detected and prevented before they become painful or cause serious damage to the teeth and gums. Dr. Tajik says it is also vital for patients to continue brushing and flossing regularly between visits to their dentist.
Although Dr. Tajik stresses that brushing and flossing on a consistent basis is one of the most important ways for patients to maintain good oral hygiene, in a recent blog post, titled "How to Maintain a Healthy Mouth," the Hollywood dentist says, "Even some of my patients who practice exceptional oral care can have genetics working against them, meaning they can potentially still end up with gum disease." He explains there is no replacement for a routine oral exam and dental cleaning, regardless of how well you clean your teeth and gums at home.
Dr. Tajik notes that when his patients come in for their regular dental visit, he and his team of dental professionals complete a basic assessment, conduct a routine oral cancer screening, and take the time to observe the correlation between a patient's oral hygiene and overall health. He says oftentimes something that is happening with the patient's health can indicate another issue related to their oral health. Depending on what Dr. Tajik finds during his assessment, he says he might recommend specific treatments to help prevent future damage. One way he helps his patients is through the use of a soft tissue laser. He says this laser can help to effectively and safely remove any harmful bacteria that is causing damage to the gums and teeth.
Cavity prevention is another reason Dr. Tajik says it is important for adults to keep up with routine dental appointments. He explains, "Even people who may have never had a cavity before can get them as an adult. As you get older, the teeth wear down. The enamel gets thinner, and the teeth are more prone to getting cavities. This is especially true for the back teeth, which are harder to brush." Dr. Tajik says to prevent these cavities from developing, he often recommends adult sealants. Using a strong, tooth-colored material, he is able to seal the contoured surfaces of the back teeth, helping to prevent cavities from penetrating the surface.
Overall, Dr. Tajik says the key to maintaining excellent oral health is a combination of consistent brushing and flossing, as well as following through with regular dental appointments. Although the typical recommendation is for individuals to have at least two checkups and teeth cleanings each year, Dr. Tajik says each patient is different, and he encourages everyone to check with their dentist to see how frequently they should return for routine check-ups.
About Kasra Tajik, DDS
A graduate of the USC School of Dentistry and the Las Vegas Institute for Advanced Dental Studies, Dr. Kasra Tajik is a cosmetic dentist with practices in North Hollywood and New York City. Dr. Tajik is the inventor of the Smile Facelift®, a non-surgical cosmetic dentistry technique that he has also patented and perfected. He is an active member of the American Dental Association and the American Academy of Cosmetic Dentistry. Dr. Tajik is available for interview upon request.
To learn more about Dr. Tajik and his North Hollywood practice, please visit elitesmilecare.com or facebook.com/pages/Elite-Smile-Care/177720305672052.
Contact:
Kasra Tajik, DDS
10545 Victory Blvd.
North Hollywood, CA 91606
(818) 945-0711
Rosemont Media
tom@rosemontmedia.com
(858) 200-0044
www.rosemontmedia.com