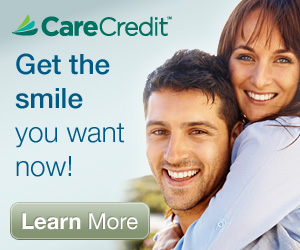 At Modern Smiles Dental Office in North Hollywood we understand that quality dental treatment can be sometimes expensive or may seem out of reach. Even though that maybe the case, we don't want financial constraints preventing you from receiving the best possible care at a timely manner. After all, neglect or delay can often times lead to more costly treatments and further exacerbation of the situation. Therefore, at Modern Smiles we are continuously seeking ways to make dental treatment more affordable by first utilizing technology to make treatments more efficient and pass the savings to our patients. Second, we focus on preventive measures to reduce risk of future dental disease and need for treatment, and third we offer easy to understand and no-interest financing options to help you obtain the care you need.
Our no-interest dental treatment financing company, Care Credit, provides a fully electronic application that can be filled out in minutes online while you are the office or at home with instant results. CareCredit dental financing has helped over 60% of our patients qualify for low monthly payments that can be broken up to 6, 12, or 24 equal payments. In addition, the American Dental Association (ADA) has endorsed CareCredit as the provider of choice for flexible patient financing solutions.
Thanks to this innovative service, being proactive about your dental health has never been easier or more affordable.  Below is a list of some of the many preventive or restorative dental procedures that you can finance using the CareCredit healthcare credit card:
Periodic Check Ups and Cleaning
Periodontal scaling and Cleaning
Fluoride treatment
Sealants
All ceramic fillings and crowns
Mouth guards for sports or Bruxing/Griding
Invisalign teeth straightening
Root Canals
Porcelain Veneers or Lumineers
Dental implants and Extractions
Dentures, Partials or Dental Bridges
Call our dental office in North Hollywood at (818) 763-9353  and ask our professional team how to sign you up for CareCredit or contact us online and we will have you smiling for years to come.