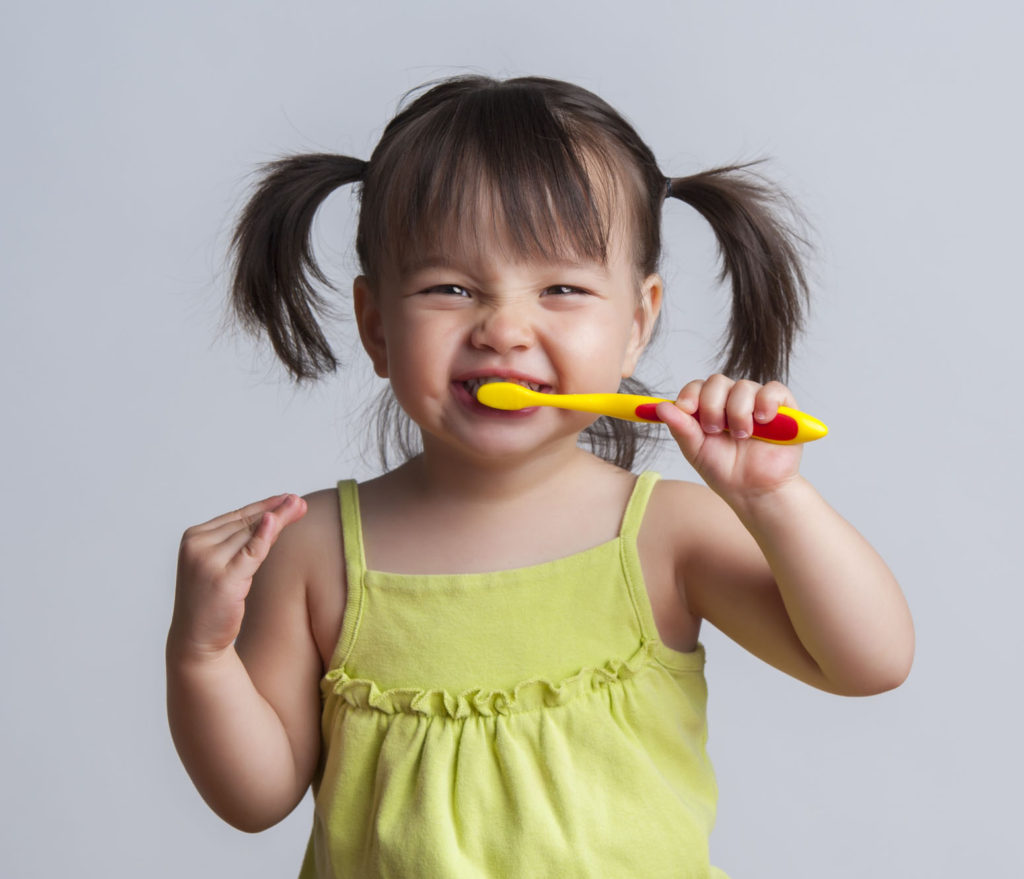 The American Dental Association, ADA, has sponsored a campaign called National Children's Dental Health Month every February to raise awareness about the importance of stopping childhood caries and developing good oral hygiene habits at an early age. Not only can this noble effort lead to a lifetime of healthy teeth and gums in our children today but also in the future generations leading to thousands of dollars of savings in preventable dental care. This year's campaign slogan, is "Choose Tap Water for a Sparkling Smile" to highlight the benefits of fluoridated tap water over sugar-sweetened beverages. Fluoridated water has the added benefit of preventing tooth decay and at Modern Smiles we emphasize the importance of regular oral checkups along with preventable methods such as fluoride.
When is the best time to start cleaning my child's teeth?
This is one of the most often asked questions at our dental office in North Hollywood and the short answer is: As soon as you see one! The earlier you can start establishing an oral hygiene routine with your child the better. For premature baby teeth that have not fully emerged from the gum you can use a clean moist wash cloth or special baby tooth brush that has very soft bristles to clean them. For teeth that have fully emerged and erupted in the mouth, use a soft bristle, child-sized tooth brush at least twice daily with just a dab of fluoridated toothpaste. Although fluoride is important in preventing tooth decay, swallowing too much of it can cause an upset stomach in young children.
Can baby teeth get cavities?
Any teeth, baby or adult, is susceptible to decay causing bacteria especially if they are routinely exposed to fluids or foods that contain sugar such as Milk, formula or even breast milk. These drinks all contain sugars, that if allowed to stay in contact with your baby's teeth for long periods of times, such as sleeping with a baby bottle, facilitate development of childhood decay. Anything but water is a high risk of causing decay, and juices are even worse as they contain both sugars and acids.
Can my baby have sweets once in a while?
Short answer is YES! It's not realistic to make your kids avoid sweets completely but having sweets once in a while under supervision is preferable. Try to make it far and in between and its better to have deserts or candies immediately after a meal followed by brushing or rinsing to prevent sugars from building up around their teeth. Soda drinks should just be avoided at all costs. There is just no benefit in them, only harm!
When should I start taking my child to the dentist?
As soon as you see teeth in their mouth! Our professional dentist at Modern Smiles, Dr. Tajik, recommends having the first visit be in year one. Baby's mouth starts collecting bacteria as soon as the first tooth erupts and there is a lot we can do at that first visit to ensure good oral health. At Modern Smiles we will do everything possible to make sure your child's first visit to the dentist is a positive one! This will help set an important trend for many more visits to come and their overall perception of dental care. We'll also answer any specific questions you may have and provide hands-on training and instructional manuals on how to care for your little one's teeth and gums.
If you would like more information about your child's oral health, please call us at (818) 763-9353 or schedule an appointment online for a consultation.