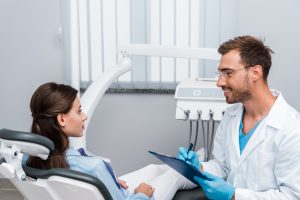 The right tools can lead to amazing results for your dental treatment. At our North Hollywood, CA dentist's office, we are able to perform several services with our BIOLASE Epic X laser! Patients who come in for care can find that dental and periodontal services feel less invasive, and they can appreciate how lasers lead to shorter and easier recovery periods. After an evaluation during a dental exam, we can discuss how lasers might help you deal with an array of issues. These can range from problems with poor periodontal health to issues with cold sores and canker sores. We can offer assistance in these matters as well as with a range of other cosmetic and general dental health services.
Lasers Can Be Used For A Variety Of Services
The BIOLASE laser is capable of assisting with many procedures that can benefit you. Many of these procedures address concerns that affect your soft tissues. After an evaluation, we can determine if laser treatment might be called for to address gum disease, or to help you recover from a cold sore or canker sore that has formed. We can even rely on lasers to help with more appearance-centered matters, like teeth whitening treatments.
Using Lasers To Address Matters That Affect Your Periodontal Health
Problems with poor periodontal health should not be taken lightly. If signs of gingivitis are present, a timely treatment can stop an infection before the issue grows worse. However, if you have already started to experience the more serious effects of gum disease, the infection can have more serious consequences. You might be surprised to find that the onset of gum disease can actually raise your risk fr tooth loss! Thankfully, treatment with lasers can help with the maintenance of your periodontal health as well as treatment for problems that have arisen.
Stay Informed About Your Oral Health At Regular Exams
As beneficial as access to laser treatment can be, you should make your priority the prevention of dental and periodontal problems. You should stay committed to the health of your smile by consistently brushing and flossing on a daily basis. You should also be mindful of your dental health by making smart diet choices. Of course, even with good habits in place, you should take advantage of the support your dentist provides during every routine dental checkup!
Our North Hollywood, CA Dentist's Office Offers Laser-Assisted Treatments
At our North Hollywood, CA dental practice, patients can count on a variety of services to help them maintain a healthy and confident smile. Our treatment options include oral health services that rely on lasers to make treatments more precise while also shortening recovery periods. To find out more, please call Modern Smile in North Hollywood, CA, today at 818-763-9353.