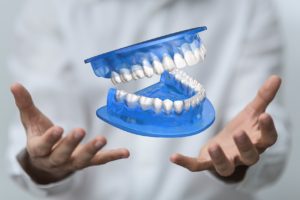 While treatments like Invisalign® have revolutionized dental health care for many patients, the success of those treatments lies largely in the planning stage. For instance, when designing your Invisalign® treatment, we utilize the advanced iTero® 3D imaging system, which offers a more comprehensive view of your oral health than ever before. Today, we take a closer look at treatment planning with iTero®, and the many ways in which your smile benefits from the advanced technology.
What Is iTero®?
iTero® is an innovative 3D imaging system that utilizes a series of digital X-ray images to create a comprehensive view of your teeth, their roots, your jawbone structure, and more. Each digital image is taken from a different angle, and when combined, they create a complete 3D model of your mouth. Using this model, your dentist can accurately diagnose the specifics of your tooth misalignment and the most appropriate path of movement for your aligners to guide your teeth through.
How Your Smile Benefits
The point of Invisalign® treatment is to correct your tooth misalignment to optimize your bite's function. That takes a high level of precision that is best achieved with 3D imaging, and the benefits you'll experience include:
More successful treatment results
Lower chance of orthodontic relapse in the future
A digital projection of your smile after treatment
More precise dental records for future reference
No need for messy, uncomfortable molds
Optimal fit for your aligners
And more
Learn More About iTero® Imaging
With the advanced iTero® imaging system, we can not only ensure the success of your Invisalign® treatment, but also show you what your smile will look like before we even begin. For more information, schedule a consultation by calling Modern Smile in North Hollywood, CA, today at 818-763-9353. We also proudly serve patients who live in Burbank, Toluca Lake, and all surrounding communities.