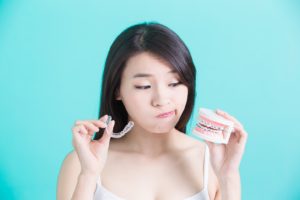 If your dentist notices that your teeth aren't aligned properly during your routine dental examination, then correcting that alignment could be essential to protecting your long-term oral health. However, for older teen and adult patients, the idea of wearing conspicuous metal braces every day to school and work can seem highly inconvenient, to say the least. That fear causes many patients to skip braces, which can lead to much more serious dental health concerns down the road. Fortunately, patients in North Hollywood, CA, who wish to avoid conventional braces can often find the solution they need in custom-designed Invisalign® aligners.
Why You Need Orthodontic Treatment
One of the reasons patients hesitate to wear braces is because they worry how they'll make their smile look. However, the problem with crooked teeth goes beyond esthetics, and choosing orthodontics is about more than just improving your smile's appearance. It's also about correcting the way your bite functions so that your teeth and jaws aren't damaged by excessive bite pressure, stopping teeth from shifting further out of alignment, and preventing further complications.
What Are Invisalign® Aligners?
Nevertheless, appearance is important, and one of the biggest benefits of Invisalign® clear aligners is that no one else can seem them. Unlike braces, clear aligners are solid, one-piece appliances that are secured in placed over your teeth. They're made from virtually invisible acrylic and designed to fit firmly over your teeth to remain unnoticeable throughout the course of your treatment. For optimal convenience, you can also temporarily remove the aligners to eat and clean your teeth, making routine hygiene simpler and more effective, as well.
Learn if Invisalign® Can Help You Avoid Braces
If you need to correct crooked teeth but prefer to avoid traditional metal braces, then find out if Invisalign® can help you achieve both. For more information, or to find out if you qualify for Invisalign®, schedule a consultation by calling Modern Smile in North Hollywood, CA, today at 818-763-9353. We also proudly serve patients who live in Burbank, Toluca Lake, and all surrounding communities.