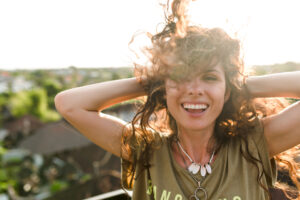 One of the most common concerns within dental offices is a smile that is out of alignment. If you struggle with this condition, it can take a significant toll on both your appearance and your oral health. A shared struggle with any orthodontic procedure is how to limit how much others notice your improvement. Traditional braces might feel a little bulky for you, and if so you may opt instead to carry on with the simle you currently have.
There is a stress-free option in Invisalign® clear aligners, where privacy can make all the difference. These nearly invisible trays give you the ability to improve your oral health without having to tell your friends and coworkers. A private alignment treatment can give you the freedom to shine in your career and social life. At Modern Smiles in North Hollywood, CA, we are proud to offer this unique technology to bring your smile back into balance!
Reduce Decay And Wear
A smile that is out of alignment can cause serious health concerns. While we tend to think of this problem as a cosmetic one in adults, there are multiple ways in which improper tooth placement can cause additional wear and strain. Our mouths are designed to share the burden of chewing throughout the mouth. When a specific area of the jaw is taxed with this additional strain, the enamel can develop damage through erosion.
You may develop an infection within the tooth without the protection that enamel provides. This situation can cause immense pain and often requires a root canal surgery to eliminate this bacterial growth. Clear aligner trays from Invisalign® help to spread this use across more teeth, which can spare you from future wear.
Overlapping is a serious condition that can increase the likelihood of bacterial growth, as well. When the structures of the mouth fit improperly, areas can develop that are difficult to brush or floss. There spots are prime locations for the invasion of foreign organisms!
Invisalign® Is A Private Alignment Treatment
For adults who suffer from dental alignment issues, traditional methods of repair may seem unrealistic. You may feel self-conscious about others knowing your personal health. In addition, the professional atmosphere can lead you to want to avoid looking young and inexperienced.
Clear aligner trays from Invisalign® give you a fresh new way to approach the situation! With this method, your personal growth can be kept to yourself. If others notice your positive change, it will be from the results rather than the procedure itself.
Discover The Advantage In North Hollywood, CA
There is a solution available to you in bringing your smile into focus. Clear aligners from Invisalign® give you a discreet way to improve the quality of your oral health. Call Modern Smiles in North Hollywood, CA today to learn more about the ways in which this process gently improves your issue!